Note from TeleDynamics: Allison Smith will be at our booth (#1472) at Channel Partners in Las Vegas on Wednesday, April 10, 2019 from 4-7 p.m. to answer your questions about IVR best practices and about how to offer professionally voiced greetings to your customers. Also, get a free, professionally voiced opening IVR greeting for every IP PBX you buy from TeleDynamics through June 30, 2019. See details below.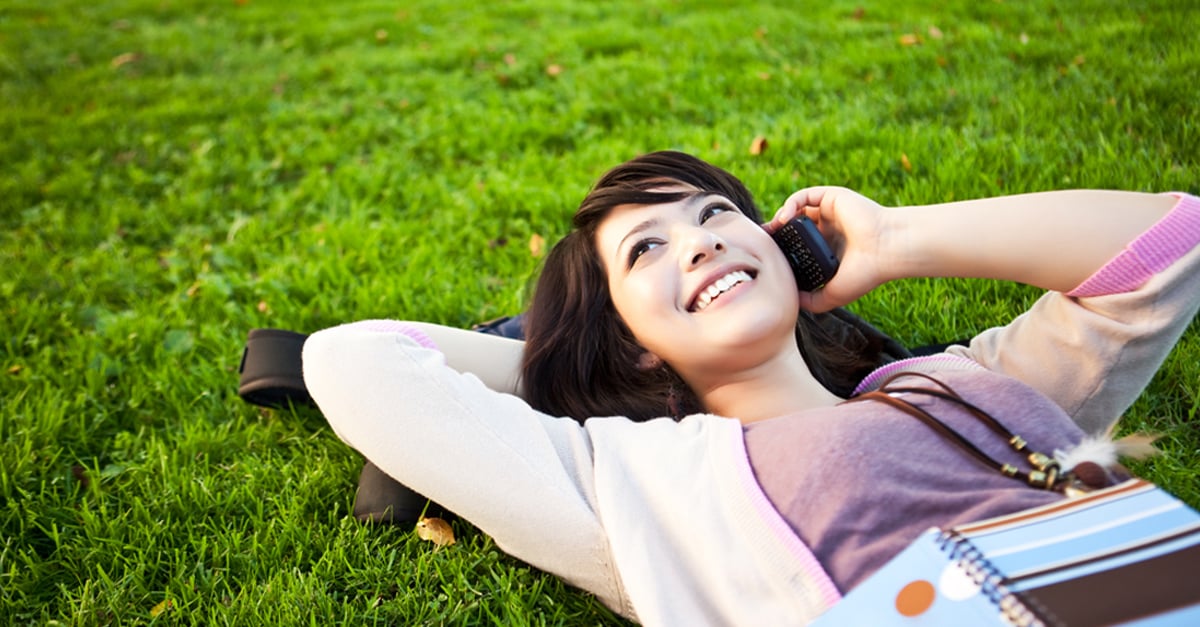 By Allison Smith, The IVR Voice.com
When clients send me IVR trees to voice, the scripts are already written, usually very methodically crafted, and debated over – even hotly contested among groups of decision makers within companies. In extreme cases, the script has even made its way through the legal department for final approval.
It's a rare thing when prospective clients approach me before the script is written. When they do, I implore them to be clear on a few things before they write the first word of their phone tree.
Who are you? Nailing down your company's identity – the image your company strives for, the principles you represent, and the type of people you attract to your staff – will help in drafting a phone script that portrays an accurate image of your company and gives callers an indication of what it will be like to interact with you.


Who's calling, please? Ever hear the saying, "Don't sell the product – sell the problem"? It applies not only to advertising; it's essential to writing your IVR script, as well. You need to be crystal clear on who your customer base is and why they're calling. Rather than just having routine "For this, press that" choices, why not think about the top five reasons that anyone would call your company and list those, in priority sequence, in your phone tree?


I hear you. For bonus points, if you can include some form of empathy for your caller's situation, you'll be well on your way to a fantastic IVR. From the auto body shop who acknowledges that anyone who calls them is likely to not be having a great day (and adopts a "we'll take care of you" attitude in their IVR) to the wedding photographer who imparts through her carefully crafted and relatable IVR that a wedding is pure magic and she will do nothing but add to the magic of that day, there are cases where the client really thought about the impact their IVR can make on the caller, and capitalized on that.
The days of a phone tree which merely "assorts" callers is happily gone. Clients of mine are getting more and more inventive with their IVRs. IVRs are an important point of contact with customers and send a strong message about what a company is all about. Build your call flow on this strong foundation, and I guarantee you will have created a memorable caller experience and you'll have happier customers when they're eventually connected to a live agent.


Special offer for TeleDynamics dealers
To assist you in educating your customers about the importance of having IVR done right, we're offering a free opening greeting to your IP PBX end user, to showcase what we do and to illustrate what a dramatic difference professionally voiced IVR prompts can make to a company's telephony presence. We predict your customers will embrace the idea, and will want their staff directories, after-hour messages, and on-hold programs professionally produced and maintained by The IVR Voice.com. To take advantage of this offer, simply email your TeleDynamics invoice for an IP PBX along with your greeting script of 50 words or less to us at allison@theivrvoice.com. Limit one free greeting per IP PBX purchased from TeleDynamics between March 13 and June 30, 2019. Click here for tips on how to format the IVR greeting script.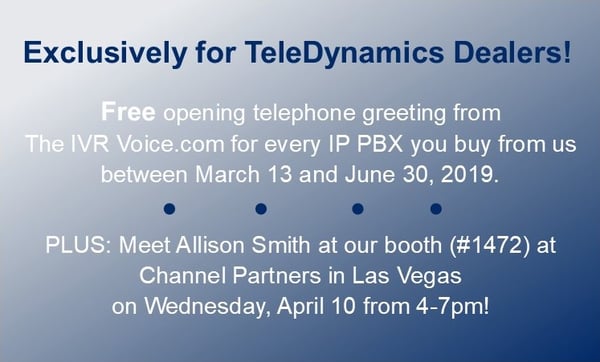 Allison Smith is an internationally recognized professional voice talent, specializing in voicing telephone systems. She is the voice of Asterisk's default IVR system greetings, as well as of those of several other manufacturers. A version of this article was originally published on LinkedIn.
---
You may also like:
The missing piece in the phone system installer's puzzle
Best practices for connecting fax machines to IP networks
Keep your VoIP E911 service in compliance with this checklist