Product Review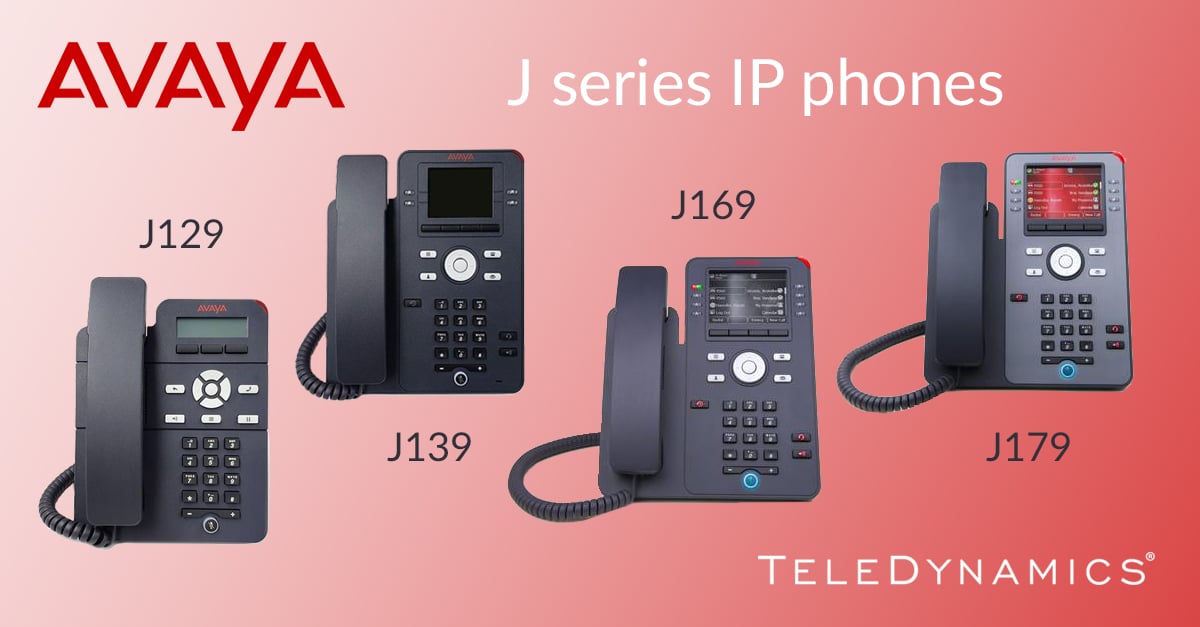 Avaya's J series phones offer a wide range of options with four models to choose from. From the entry level J129 through to the high-performance J179, these phones are ideal for fulfilling the needs of virtually any enterprise user. The range of features that the J series phones deliver are sufficient for most businesses to base their entire telephony networks solely on these devices. This greatly simplifies implementation, maintains a consistency across the network, and allows you to take advantage of some of the most advanced features these phones provide.


Avaya J series IP phones
Avaya is a telecommunications company that was founded in 2000, but has a rich heritage spanning over a century. Spun off from Lucent Technologies, which in turn was established through the divestiture of the telecom behemoth AT&T, Avaya is built upon the long tradition of knowledge, know-how and expertise that has enabled the communications of many organizations throughout the world.
Avaya is continuing its tradition of excellence in many of its newest products, including its J series of IP phones.


Sleek design
The Avaya J series IP phones have a unique slim form factor that not only looks great, but minimizes the devices' footprint on the desk. This is perfect for environments with limited desk space, desk space rental, or location-based and walk-up scenarios. All phones sport a large easy-to-read screen, full duplex speakerphone, PoE support, and dual network ports on the phones themselves, making them easy to colocate a PC and requiring only one switchport per workstation.


Phone features
The J129 phone, which is the entry level model is ideal for lobbies, waiting areas, lunch rooms and hallways, as well as for entry-level employees. It supports a single line with two concurrent calls, a 100-entry call log, an easy-to-read monochrome display, a 10/100 Mbps port for connecting a workstation computer, and the option of connecting the device via Wi-Fi with the addition of the J100 wireless module.
At the other end of the spectrum, we have the J179 executive level and high call volume model, which is ideal for managers, administrators, or phone room and receptionist scenarios. With a large color display, up to eight lines, and support for up to three 24-button expansion modules, the J179 can easily handle the most hectic and intensive telephone usage. Among the most impressive features is the support for Wi-Fi deployment, Bluetooth, high-definition audio, a Gigabit Ethernet port for connecting a workstation computer, and a large 2.8-inch color display for ease of use. The phone also supports user interface personalization, making the phone's screen more useful for each individual user. The J179 IP phone's modular design leverages your enterprise VoIP network to deliver sophisticated and feature-rich voice communications.


Supported codecs and protocols
All J series phones support the most common and universally supported codecs such as the ITU's G series codecs, including G.711, G.726, and G.729. All phones support wideband codecs, including G.722 and Opus, delivering high-quality voice that resembles FM radio quality as opposed to the typical tinny sound of traditional telephony. This can increase productivity by reducing fatigue and making conversations easier to understand and more pleasant to participate in. All phones support the SIP protocol, while the J169 and J179 phones both support H.323, as well. All phones are simple to provision with an easy-to-use web configuration and support for device enrollment services.


Support for unified communications platforms
These phones have been designed and optimized to be used with Avaya's high-performance platforms, including Avaya Aura® Platform 6.3 FP4, and Avaya IP Office™ 11.0. However, Avaya's phones are by no means limited to the use of these VoIP servers. In order to protect your investment, and to make sure that Avaya's products will perform at their peak for your business, the company has compiled a list of Avaya-approved third-party platforms their phones can be used with successfully without losing any of the advantages inherent in their design.


Comparison of key features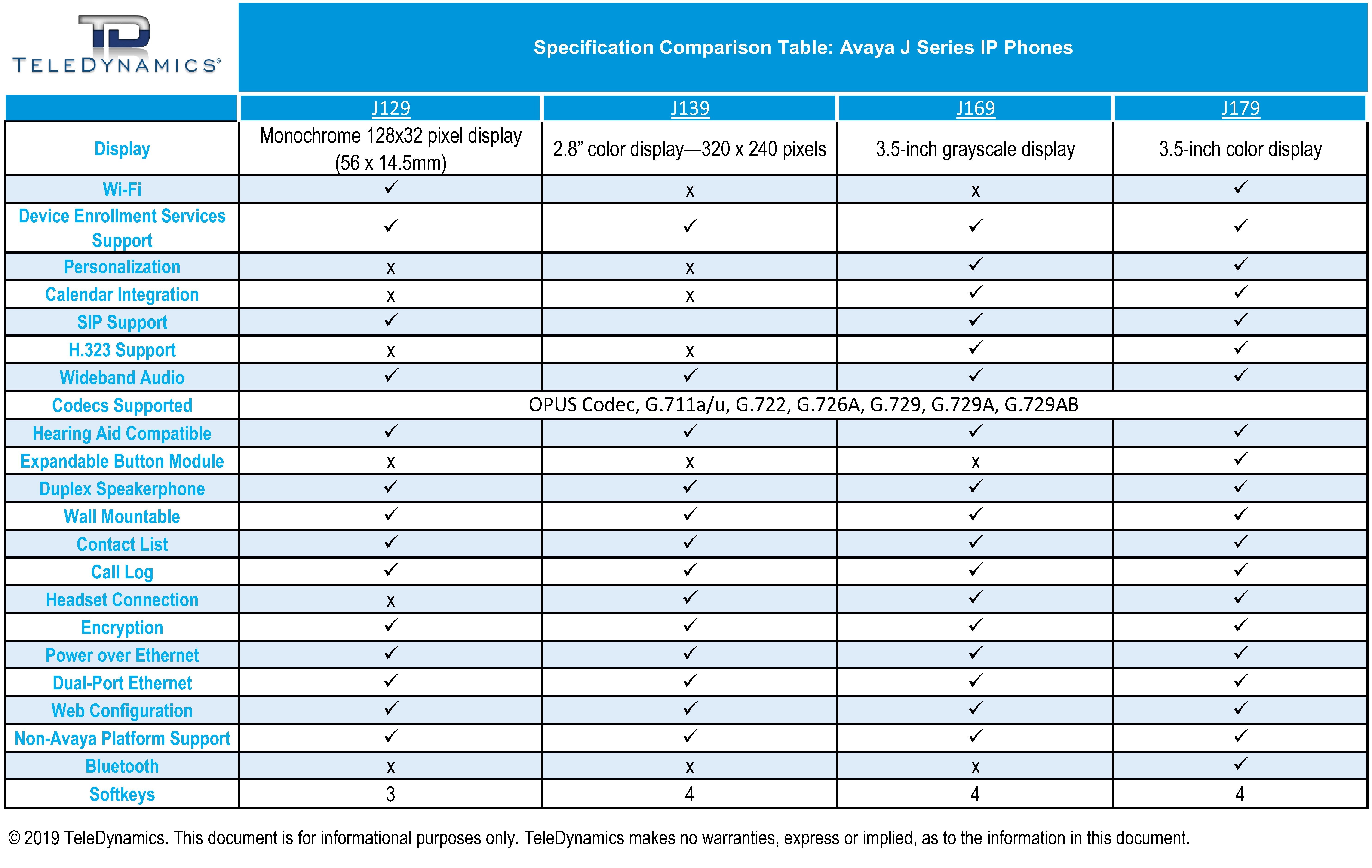 Download a copy of this comparison table as a PDF

Conclusion
If you're in the market to upgrade your existing VoIP network, or if you're looking for a new IP telephony solution to implement from scratch, the J series of IP phones from Avaya is a great choice. This single series of feature-rich and economically accessible phones offers everything needed for your voice network.

Browse all Avaya products on our website.


---
You may also like:
Avaya's take-anywhere B109 conference phone
The wonderful world of voice codecs
Cloud and UC: Is your telephone system on board?