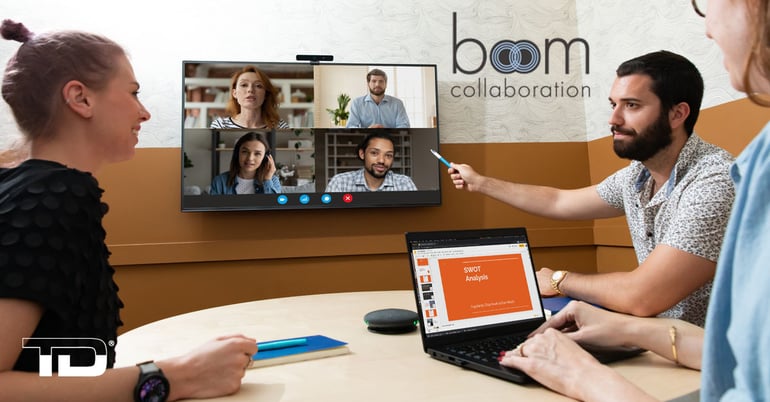 When combining multiple Boom devices into a single videoconferencing kit, the whole becomes greater than the sum of its parts. Boom Collaboration demonstrates this truism with its huddle room kit composed of the advanced MEZZO 4K camera along with the GIRO Pro wireless speakerphone. For a limited time, Boom is making these kits available for demo purposes (not for resale), at a 50% discount, exclusively for TeleDynamics dealers/resellers. Contact your TeleDynamics rep for details or click here to book a free, no-obligation Boom LIVE! demonstration to see the MEZZO+GIRO Pro huddle room kit in action.
When placed side by side with products that offer similar feature sets from some of the industry's best-known manufacturers, Boom's huddle room kit delivers an unparalleled quality/price ratio. Among its other qualities, the MEZZO 4K camera delivers auto-framing, 4K, and a remote control. There are other 4K auto-framing cameras out there, but they don't have the ability to toggle the auto-framing on and off, they don't include the remote control, and the price point can be up to 10 times higher.
An introduction to Boom Collaboration
Boom Collaboration is a fresh and inventive company specializing in collaboration hardware. As stated by the company itself, "With a focus on quality design and simplicity paired with excellent video and audio technology, Boom Collaboration is on a mission to make meetings better."
How Boom Collaboration is making meetings better
Boom Collaboration focuses on providing solutions for three areas of application:
Working from home - Today's trends focus more on working from home, and according to some sources, 55% of businesses globally have already implemented successful work-from-home policies. This number continues to grow as businesses embrace the post-pandemic world. In addition, 30% of all employees are full-time remote workers, while 62% work from home occasionally.
Huddle rooms - Huddle rooms are a useful for allowing collaborating employees to converse, exchange ideas, and develop designs and plans. Such rooms are used by countless businesses globally, but it has been estimated that less than 3% are video-enabled. As the post-pandemic design of huddle rooms changes, their usage will increase. Furthermore, huddle room meetings enabled with video are expected to grow exponentially over the next few years.
Conference rooms - There are millions of conference rooms worldwide, and millions of video conference meetings happen daily, with over 11 million per day being conducted in the United States alone.
In all three of the above cases, studies have overwhelmingly shown that having the high-quality equipment that is easy to use plays a vital role in maximizing the benefits supplied by collaboration systems.
Boom Collaboration is committed to delivering the right equipment to make sure your business maintains effectiveness and productivity in its remote meetings.
Product overview
Boom Collaboration focuses on three types of hardware: cameras, speakerphones, and all-in-one devices.
Cameras

When communicating remotely, it is important to clearly see the person you are communicating with. For this reason, Boom's line of cameras comes in three "flavors."
The Boom MINI is the entry-level camera capable of transmitting 1080p video at 30 frames per second (fps). It supports multiple video codecs, sports two omnidirectional microphones, and has a 90° field of view. It can easily be mounted on top of a monitor or large-screen TV.
The Boom MEZZO gives you the same features as the MINI, with the addition of 4K video at 30 fps, 110° field of view, and electronic pan, tilt, and zoom (ePTZ) capabilities with up to 10x digital zoom. Click here to book a free, no-obligation Boom LIVE! demonstration to see the MEZZO+GIRO Pro huddle room kit in action.
At the top of the line, you have the Boom MAGNA, with 4K video at 60 fps, real PTZ with up to 12x optical zoom, and USB 3.0 and Ethernet connectivity.
Audio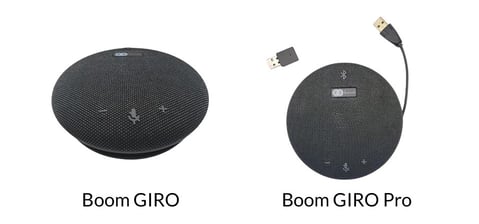 Audio is still a cornerstone of collaboration and remote conferencing systems, and you should never cut corners when it comes to high-quality sound. Boom's audio device offerings include two options:
The Boom GIRO is an elegantly designed speakerphone with an impressive microphone and speaker. With 360° audio pickup capabilities, full duplex HD audio, and dynamic noise reduction technology, it's the next best thing to having other conference attendees in the same room with you. It's a wireless device with a rechargeable lithium-ion battery and can be connected via Bluetooth 5.0 or USB cable.
The Boom GIRO Pro has all of the great features of the GIRO plus the convenience of wireless charging. Click here to book a free, no-obligation Boom LIVE! demonstration to see the MEZZO+GIRO Pro huddle room kit in action.
All-in-one device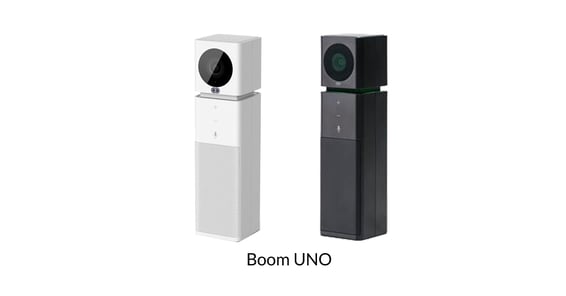 When you're on the go and wanting the convenience of a compact collaboration device, Boom's all-in-one UNO is just what you need.
The Boom UNO is a compact and elegant device that has a full HD 1080p camera operating at 30 fps, with a 120° wide-angle field of view. It supports multiple codecs, including MJPEG and YUY2, and has a speaker that can reproduce HD audio, as well as an omnidirectional microphone. Additional features include:
High-quality CMOS sensor
Dynamic noise reduction (DNR)
Echo cancellation
Plug and play USB 2.0
Comes in white or black
Conclusion
Boom Collaboration's portfolio of audio and video devices is well focused on the collaboration needs of individual remote workers, as well as huddle and conference room requirements for most small and medium-sized businesses.


---
You may also like:
Yealink work-from-home solutions
Yealink's bring-your-own-device (BYOD) solutions
TeleDynamics expands its relationship with Ribbon Communications