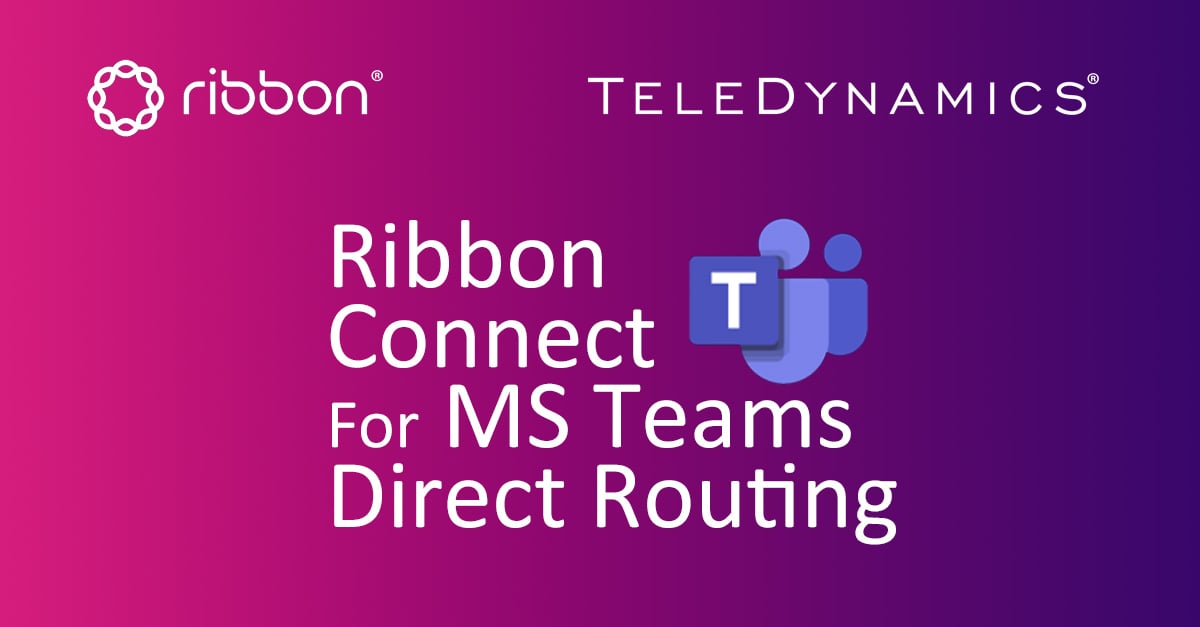 We are excited to announce the launch of TeleDynamics' Ribbon Connect for MS Teams service. Our collaboration with Ribbon Communications is an example of how partnerships can deliver products and services to that are greater than the sum of their parts. Keep reading to see what exciting possibilities this collaboration facilitates for your business, and save your spot for our webinar on 6 May.
Ribbon Communications
Ribbon Communications was formed in 2017 by the merging of two already cutting-edge telecom companies: one focusing on intelligent cloud communications and the other on supplying IP-based real-time communications software products. This has made Ribbon Communications a world leader in delivering communications software, IP, and optical networking solutions to service providers and large enterprises.
Among a broad portfolio of products and services that are geared toward network optimization, service integration, monitoring, analytics, and orchestration, Ribbon Communications promotes advanced services for businesses that improve efficiency and performance for both the end user and your technical support staff.
One significant example of this is TeleDynamics' Ribbon Connect for MS Teams service.
Ribbon Connect for MS Teams
Microsoft Teams is a popular collaboration and communications platform that many businesses have integrated into their telecommunications portfolio. As a service, MS Teams is a versatile and powerful platform that enhances remote productivity and collaboration. What Ribbon Connect for MS Teams does is enable Teams to be easily and seamlessly integrated into a business' existing IT and telecommunications infrastructure. Such integrations can include existing VoIP networks and services, more traditional PBXs, as well as other business-oriented software platforms.
Ribbon Connect for MS Teams is a cloud-based Teams enablement service that streamlines many of the processes and procedures necessary to create these integrations. This service provides an intuitive web-based portal that will simplify the way you connect Teams with an existing telephony infrastructure. By implementing direct routing as well, your Teams deployment can also directly connect to SIP trunk services from any provider.
Advantages of Ribbon Connect for MS Teams
Ribbon Connect for MS Teams essentially consolidates the deployment procedure of Teams, which may under normal circumstances take several days, into a single button click. It does this by automating many of the tasks involved in the deployment process. Via this web-based portal, you can quickly offer new sets of services that add to the value of MS Teams and deliver phone system services while your customers and users enjoy the flexibility of migrating at their own pace.
The benefits involved are manifold and include:
A simplified integration of existing telephony services. Whether you are using an IP-based system, traditional PBX telephony, or a cloud-based VoIP provider, you can easily integrate Teams with your existing telephony system. This enables your distributed workforce to exploit all telephony services remotely, even if they are working from home.
Direct routing. This is a Microsoft service for connecting Teams to a Public Switched Telephone Network (PSTN). It allows Teams endpoints to be directly reachable over the PSTN via the enterprise phone number that corresponds to that particular employee. Because various businesses may have a multitude of different PSTN configurations, such a connection is consequential and may require a great deal of planning. Ribbon Connect automates this process so you can quickly get up and running with little or no hassle.
Ensuring multi-vendor interoperability. Ribbon Connect for MS Teams helps to ensure the interoperability of systems and equipment of multiple vendors. It provides assurance that such deployments will indeed interoperate at the expected efficiency, with the required security, and with the full feature set that each vendor promises. Ribbon and TeleDynamics have two of the broadest portfolios of Microsoft Teams certified solutions, delivering more choices to communicate more securely, more efficiently, and more intelligently.
Robust and Versatile Services
The Ribbon Connect for MS Teams service is based on Ribbon's robust and flexible software known as SBC Software Edition Lite (SBC SWe Lite). This is a Session Border Controller solution that runs on Microsoft Azure cloud infrastructure and delivers:
VoIP security
Interoperability with virtually all IP PBXs, cloud-based VoIP systems, and PBXs
Certified Microsoft Teams Direct Routing
Advanced call routing features
Powerful media features
Efficient and streamlined architecture using fewer resources
Ribbon Connect for MS Teams deployed in collaboration with TeleDynamics uses these very same capabilities to support the implementation of these services. With tens of thousands of deployments of SWe Lite worldwide, this is a tried and tested solution with a proven track record of many variations and combinations of vendors and services.
Its large customer base reinforces the fact that Ribbon Connect's intuitive web-based portal is a highly effective solution for streamlining MS Teams implementations and integrations.
Learn more on our 30-minute webinar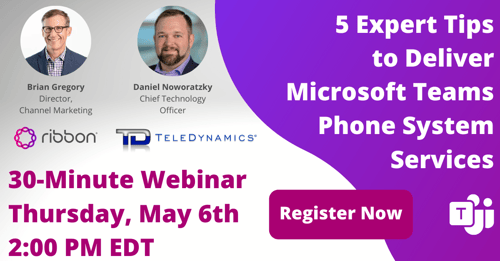 Microsoft Teams has been on a roll, with over a hundred million people using the collaboration platform on a daily basis. Businesses are anxious to start using Teams as their phone system, but many have existing PBXs that they need to migrate over time.
Ribbon and TeleDynamics understand that partners have enough on their plate, so we've teamed up to help partners tap into this rapidly expanding market. In this 30-minute webinar, we'll discuss the steps to quickly offer Teams Calling services without having to invest in hardware or software infrastructure. Additionally, we'll answer your questions live. Save your spot here, and if you can't join, register anyway to get the recording afterwards.
Conclusion
If you are looking to integrate your existing telephony system with MS Teams, or planning on employing MS Teams as a collaboration and communications service for your distributed workforce, consider Ribbon Connect as a service enabler to streamline your integrations. The single-click deployment ability as well as the easy configuration of new sets of services are indispensable to those managing, implementing, and integrating such systems.


---
You may also like:
How to turn your equipment costs into an OpEx using a DaaS model
TeleDynamics teams up with netsapiens