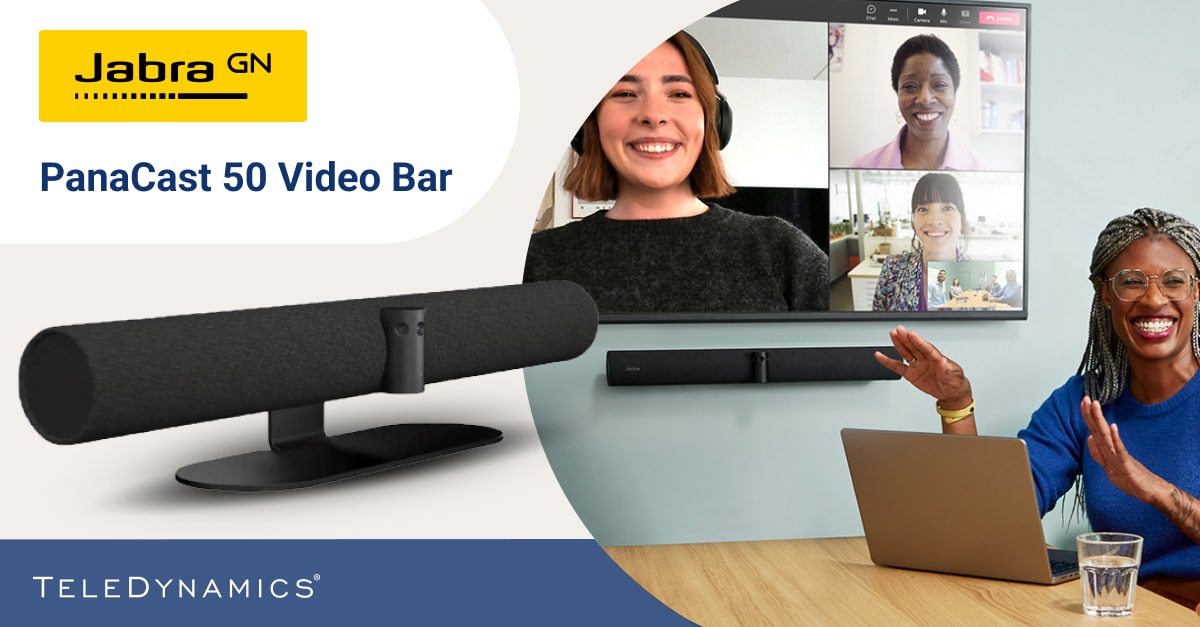 If you think video bars can't get any better, think again! The Jabra PanaCast 50 is a game-changer for putting teleconference participants at the center of the action. The PanaCast 50 combines excellent sound quality with a one-of-a-kind camera setup and intelligent features.
In this article, we highlight some of the most noteworthy features of this videoconferencing system.
Sound that astounds
The PanaCast 50 video bar is all about sound quality. It delivers "sound that astounds." The PanaCast 50 was developed by Jabra, a company well-known for its extensive series of headsets, speakerphones, and mics, all delivering extremely high-quality sound. This device reflects Jabra's reputation, which features excellent sound pickup quality through its microphones and exceptional sound reproduction from its speakers.
For sound pickup, the PanaCast 50 uses a set of eight professional-grade beamforming microphones for crystal-clear conversations. Four powerful Jabra-engineered speakers — two 50 mm woofers and two 20 mm tweeters — fill the room with high-definition audio.
The latest two-way audio technology coordinates sound input and output, delivering seamless full-duplex sound pickup and reproduction for more natural-feeling conversations.
A novel video arrangement
The PanaCast 50 sports three fixed 13-megapixel cameras to create a real-time video stream with a truly 180° field of view. The camera setup achieves this view without the distortion at the edges that is typical of a single 180° camera.
Crisp, high-definition, patented real-time video stitching technology uses advanced algorithms to decide exactly how to live-stitch the three video streams together in real-time with virtually no latency, creating a smooth, 180° field of view in panoramic 4K resolution.
With such a wide field of view free from distortions, there are virtually no blind spots in the room. From single-person calls to full team meetings, this intelligent technology always includes all participants in the video field of view optimally.
The most intelligent video bar available
If you think this video bar's audio and video features are phenomenal, wait until you hear about the integrated AI capabilities of the PanaCast 50. When Virtual Director mode is enabled, it leverages AI-driven audio and video feeds and intelligent algorithms to reframe the scene based on meeting activities automatically.
It adeptly identifies active speakers, promoting a fully interactive and immersive remote meeting ambiance.
At the same time, this sophisticated software employs innovative AI capabilities to comprehend room activities and respond appropriately. For example, it perfectly positions active talkers within the frame without excluding surrounding participants.
Even if you have two people at the edges of the 180° field of view talking to each other, the system will ensure they're both within the field of view, so remote participants can comfortably see them both.
This totally reinvents the meeting experience, making remote collaboration more dynamic and more inclusive by more closely replicating real-life human interaction.
Additional features
The PanaCast 50 is certified for both Teams and Zoom, so integration with established videoconferencing and collaboration systems is guaranteed. However, you are not limited to these platforms: The system is compatible with a multitude of videoconferencing systems.
In addition, the PanaCast 50 has safety capacity and room usage insight capabilities, giving you both an anonymous headcount as well as advanced analytics. The analytics include stats such as room usage, seat usage, and device usage over a selected period.
All of this is done using Jabra's free management software called Jabra Xpress, but the PanaCast 50 is also compatible with other device management platforms.
There are also special capabilities that allow the PanaCast 50 to enhance traditional whiteboard usage. You can mark where the whiteboard appears in the field of view. Even if it is at an angle, intelligent algorithms automatically capture and live-stream its contents with the appropriate perspective in real time, so everyone can participate and see clearly.
Finally, the video bar can be used by itself or in conjunction with other Jabra components to enhance control and collaboration to its fullest. Speak with a TeleDynamics representative for more information.
Key specifications
Here are the specifications of the PanaCast 50 video bar:
Video:

Panoramic multi-camera array

Camera resolution: 13 megapixels each

Zoom: Up to 6X lossless digital zoom

Field of view: Distortionless 180° horizontal and 54° vertical

Resolution: Panoramic 4K (3840×1080) @ 30 fps

Audio:

Speakers: Two 2" (50 mm) woofers and two 3/4" (20 mm) tweeters

Speaker frequency range: 80 Hz to 20 kHz

Microphones: Array of eight beamforming mics

Microphone frequency range: 100 Hz to 8 kHz

Connectivity:

USB-A, USB-C, Ethernet (RJ-45)

Bluetooth for remote control and Sound+ Access

Colors and mounting options:

Colors: Black or light gray

Wall-mountable

Table-mountable with stand (sold separately)

Screen-mountable, compatible with VESA specifications (mount sold separately)
Conclusion
The Jabra PanaCast 50 video bar offers exceptional audio and video quality as well as robust data analytics, further elevating the standards of virtual collaboration. The device seamlessly integrates with popular collaboration platforms, and its intelligent, immersive AI-driven panoramic view feature ensures that every participant in a room is visible and engaged, promoting inclusivity and enhancing the quality of communications in virtual meetings.
The Jabra PanaCast 50 is considered a premium device for organizations that wish to invest in top-tier technology to prioritize high-quality video conferencing. Its exceptional features, robust build quality, and versatility make it a compelling addition to any modern, hybrid work environment.


---
You may also like:
How AI is impacting unified communications
How UC and VC enable the gig economy
Innovative features of Yeastar Workplace office space management tool