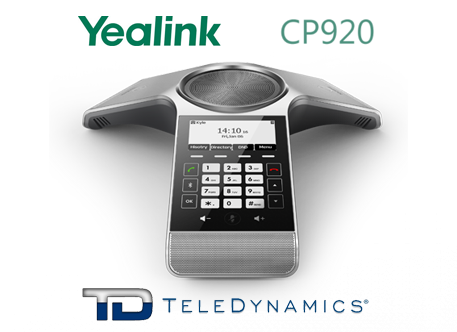 IP telephony and its related technologies have matured over the past decade. As competition grows among IP telephony vendors, product designers are packing more options, functionality, and bells and whistles into their products. This sometimes results in making IP telephones and their accessories more complicated to operate.
Yealink seems to have cut through the hype of multi-functional devices by designing and offering a simple, intuitive and easy-to-use device that performs specific and specialized functions, and performs them flawlessly. This is definitely the case with Yealink's new CP920 touch-sensitive HD IP Conference Phone.
Simplicity
The CP920 provides an excellent conference experience for small- to medium-sized conference rooms. Thanks to its crystal clear audio quality, you won't have to strain to hear what the call participants are saying, nor will you have to shout to be heard, making your conference calls that much more comfortable and productive. The CP920 provides you with a brilliant balance of simplicity with powerful and useful features that you will actually use regularly. Just dial and speak. Simple.
Flexibility
The CP920 provides a multitude of options when it comes to integration with your organization's telecommunications infrastructure. It can be integrated into an already extant IP telephony system or, using the CPN10 PSTN Box, you can use it without an IP PBX by connecting it directly to the PSTN. It can connect to the premises' structured cabling via a Fast Ethernet connection or wirelessly via Wi-Fi. It can be paired with a mobile smartphone, PC or tablet via Bluetooth for both easy dialing and use as a microphone or loudspeaker for a mobile call. It can function as a hub for a conference call with up to five participants using IP telephony, or up to three participants using its PSTN configuration. It also provides call recording on a local USB stick.
Key features
Some features that make the Yealink CP920 advantageous for any conference room include:
Full Duplex HD Audio

Yealink Noise Proof Technology (view a video about how Noise Proof Technology filters out background noise)

20-foot and 360-degree voice pickup

Sensitive touch keypad

1 inch 248x120-pixel graphical LCD with backlight

Elegant lines and subdued colors to fit in well with any style of conference room from traditional, to minimalist, to modern
Comparison with other Yealink products
The CP920 sits in between the CP860 and the CP960 Yealink IP conference phone products in its features and functionality. You can compare these models side by side in the chart below.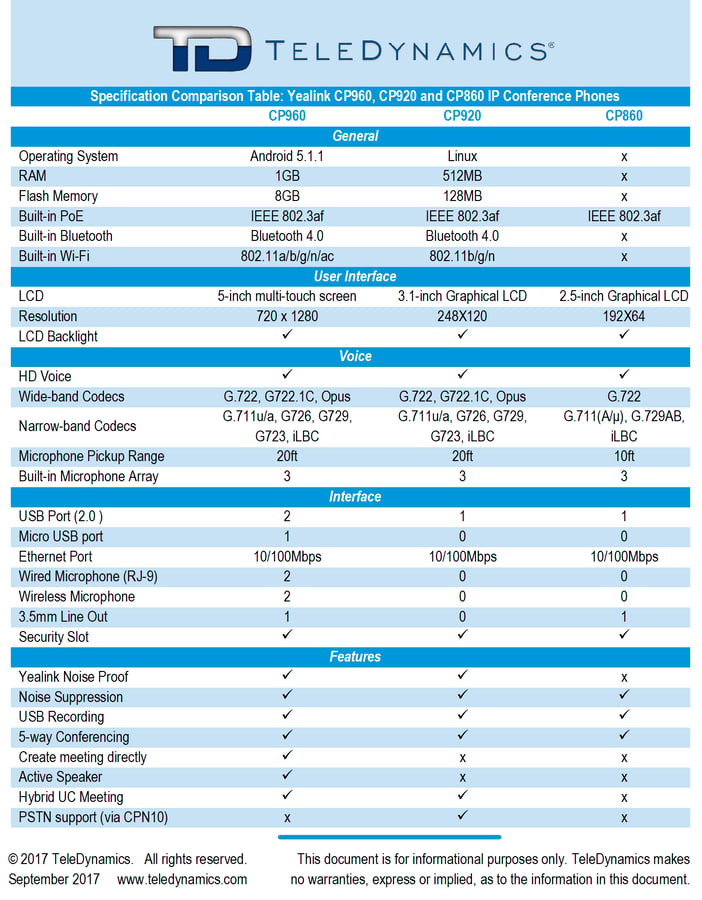 CONCLUSION
The Yealink CP920 has filled in a gap between the CP860 and the more advanced CP960. Providing more enhanced and improved functionality than the CP860 and a more streamlined and specialized arsenal of features than the CP960, the CP920 is an economical, simple, and high-quality solution for the needs of today's small- to medium-sized conference rooms.
---
You may also like:
Yealink smartens up its conference phone with the CP960
Video conferencing systems: Grandstream vs. Yealink
IP PBX must-haves for small businesses