Product Review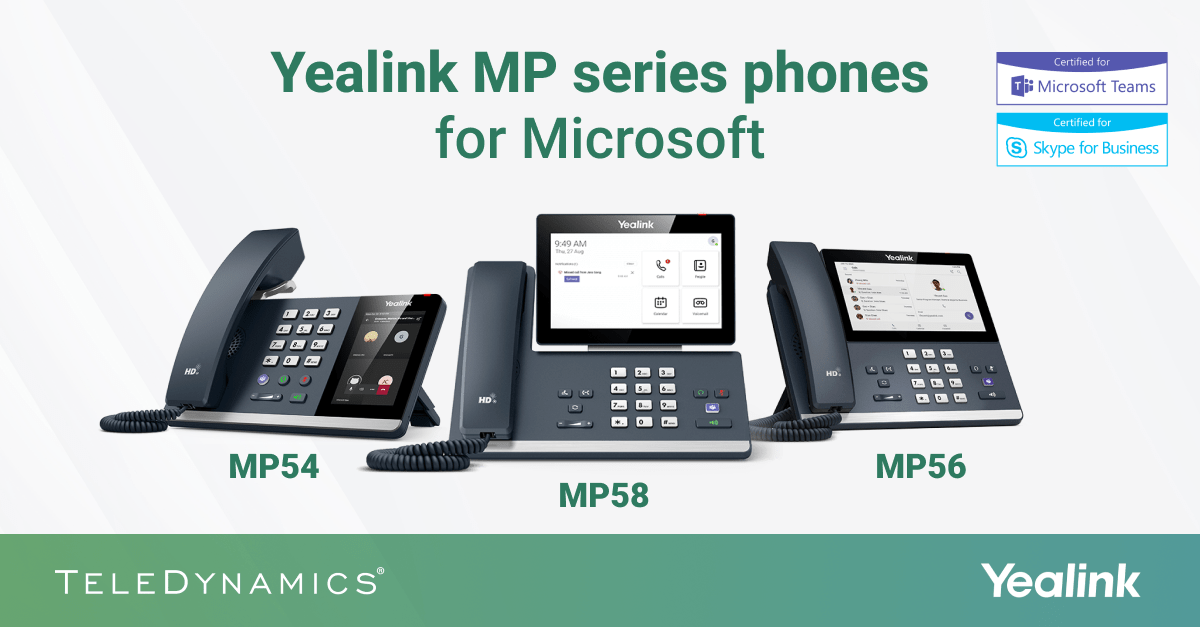 Yealink's MP series IP phones deliver a broad spectrum of capabilities for a wide array of uses. From a feature-rich, entry-level phone to a high call-volume, executive-level device, these IP phones deliver virtually all the telephony features that most businesses need today. In this article, we take a closer look at what Yealink's MP series phones have to offer.
Yealink MP series phones: Good things come in threes
The Yealink MP series has three different IP phone models:
MP54

:

An entry-level, cost-effective device ideal for low call-volume users, common areas and shared workspaces

MP56

:

A mid-level device for office workers and professionals

MP58

:

An executive-level IP phone enabling many telephony, collaboration and video conferencing features, ideal for high call volume users and/or executives
Each phone comes in three flavors:
Skype for Business certified

Microsoft Teams certified

Zoom certified
These Yealink phones offer a range of user options and certifications with collaboration services. This way, businesses can more effectively choose the combination of features and compatibility to suit their needs while future-proofing their investments in their communication systems.
Yealink's advanced design and architecture
All three phones are designed to deliver high-quality services in a robust, highly available and reliable manner. They incorporate powerful new chipsets that bring stability and sustainability to the device and optimize its performance and longevity. The combination of modern hardware and the newest Android 9.0 operating system provides the phone with fast response times and delivers a fluid and interactive experience for the user.

The MP series IP phones deliver crystal-clear voice communications, thanks to Yealink Optima HD Voice and Yealink Noise Proof technologies. They also include a full-duplex, hands-free speakerphone with acoustic echo cancellation (AEC) and a hearing aid compatible (HAC) handset to deliver an excellent audio experience in every call.
Showcasing the MP54
Although it may be counterintuitive to focus on an entry-level phone, the MP54 is no ordinary entry-level device. It is unexpectedly advanced and could easily be mistaken for a mid-level offering or even one of the more advanced options due to its features, innovative construction and aesthetics.
Its sleek design, brilliant 4-inch 480x800 pixel capacitive touch screen and large, comfortable buttons deliver an impressive and enjoyable user experience. Additional notable features include:
Optimized HD audio with Yealink Noise Proof technology

Bluetooth support via optional dongle

BT41

Wi-Fi support via optional dongle

WF50

One USB Type-A port

Support for a USB headset

Dual-port Gigabit Ethernet

IEEE 802.3af class 3 PoE support

Magnetic handset

Compatibility with Microsoft/Yealink/U2 device management platforms
Arguably one of the most useful features of the whole MP series of IP phones is its deep integration and compatibility with Microsoft Teams, which includes the following:
Microsoft Teams tailored user interface

Dedicated Microsoft Teams button

Support for Office 365 and upgradability of device applications to Teams

Support for hybrid mode
The Yealink hybrid mode feature is extremely useful across an enterprise where SIP user groups and Teams user groups need to communicate with each other. This is the typical scenario for customers migrating from traditional SIP to Microsoft Teams solutions. In hybrid mode, the two groups can coexist and interoperate during the migration.
Key features of the MP56 and MP58
The MP56 supports everything that the MP54 does while providing the following enhancements:
A 7-inch, 800x480 pixel touch screen

Support for the

EXP50

Expansion Module

Built-in Bluetooth 4.2

Built-in dual-band 2.4G/5G Wi-Fi
The MP58 supports everything that the MP56 does and also includes these features:
A 7-inch, 1024x600-pixel touch screen

Support for Yealink

BTH58

Bluetooth wireless handset

Two USB Type-A ports with support for a USB headset
Conclusion
Yealink and Microsoft have been partners for several years, resulting in deep hardware and software integration and network collaboration services. This delivers useful, intuitive and innovative communications systems to businesses of all types and sizes. The Yealink MP series IP phones represent just one product of this partnership. For articles about other Microsoft-certified devices, click here.
---
You may also like:
Yealink updates its DECT phone lineup
Yealink's bring-your-own-device (BYOD) solutions
Yealink future of work solutions