Product Review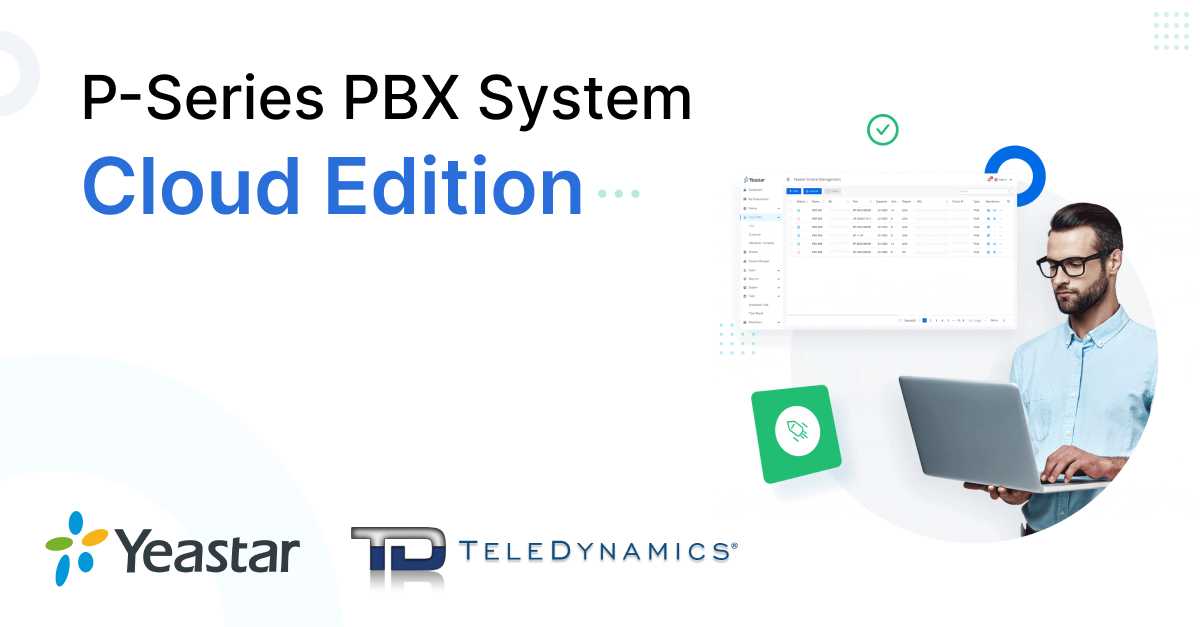 Yeastar is a trailblazer when it comes to delivering IP PPX solutions. The company offers Voice over Internet Protocol (VoIP) servers with some of the most advanced and ground-breaking features on the market, and it has continued to enhance both its product line and the mechanisms through which its products are delivered.
In this article, we focus on Yeastar's P-Series cloud-based VoIP telephony solutions, how they are delivered and the market they are designed to serve.
P-Series offerings
Back in 2021, we showcased Yeastar's P-Series all-in-one on-premises solutions — innovative appliances that deliver a whole series of advanced IP telephony and collaboration features.
Later that same year, we talked about the P-Series software edition, a version that provides the same great features with the added flexibility of installation on an enterprise's VM (virtual machine) infrastructure, either on-site or in a private cloud.
Both options offer numerous advantages, so the right one to choose depends upon the size and philosophy of the enterprise, as well as the level of available in-house IT support. The on-premises solution is typically chosen by small to medium-sized businesses, while the software edition is extensively scalable, delivering service for up to 10,000 users per software edition license.
Both require some level of in-house IT expertise for installation, maintenance and modification.
P-Series cloud edition
The cloud edition of this series of IP PBXs delivers the same great features as its appliance and software edition counterparts, but with the convenience of a SaaS infrastructure. To be more precise, this is a Unified Communications-as-a-Service (UCaaS) offering that allows end users to become subscribers to the service and get up and running within minutes of service activation.
The cloud edition is hosted by Yeastar, which deals with all server maintenance, software upgrades and other day-to-day technical tasks in the background. No more physical installations or software server installations are necessary, and no on-premises or even cloud-based infrastructure is required. All you need is a stable internet connection, something that is almost ubiquitous in today's world.
This edition is ideal for smaller businesses of up to several dozen employees that don't have the budget for full-time or even part-time IT staff.
In addition, as a business grows, the P-Series cloud grows with it by simply adding subscribers and mixing and matching only those feature sets that are useful to the business.
Deployment scenario
Imagine you're a small company with 12 employees, but you're growing fast. You have many customers who need to contact you by telephone, and you're eager to provide them with high-quality, enterprise-caliber customer service. However, you don't have the budget or time to invest in a telecom system that will deliver on all these requirements.
Yeastar's cloud-based P-Series PBX delivers a turnkey solution for flexible and easily deployable telephony with advanced features and services, including the following:
Enterprise-grade telephony, delivering internal and external telephone service to employees
Contact center applications that allow customers to contact you by telephone
Integration with third-party CRMs, help desk platforms and collaboration systems — such as Teams, Salesforce, Zoho, Hubspot and others — to streamline processes and increase efficiency
Sophisticated call routing, IVR (interactive voice response) and specialized unified communications tools enable callers to get to the person they need to talk to as quickly as possible
Yeastar Linkus softphone, a free app for working from anywhere with integrated voice, messaging, conferencing and more – from virtually any device. Available using Web browser, Microsoft Windows, macOS, iOS, and Android, Linkus makes real-time business communications and collaboration easy across multiple devices, for true one-number access. Visit the Yeastar Linkus webpage for more details.
All these features are delivered using a decentralized UCaaS infrastructure, allowing you to easily provide these tools to a geographically dispersed workforce, as shown in this diagram: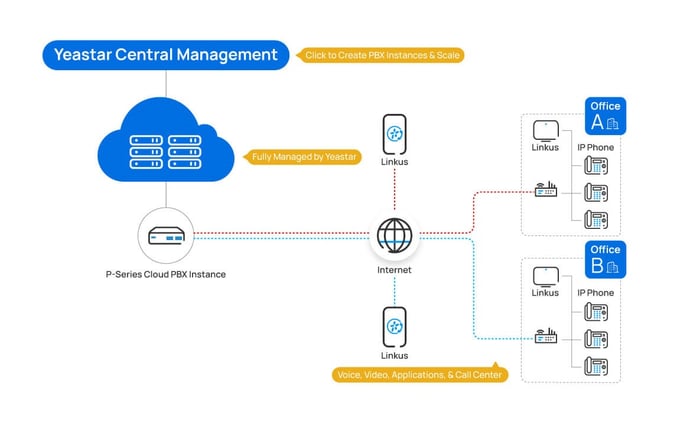 (Image source: https://www.yeastar.com/blog/moving-uc-to-cloud-reseller-race/ )
Employees can be located at HQ, at various branch offices or even at home, and all can enjoy the same level of productivity and interconnectivity with the system.
Yeastar Central Management (YCM) portal
Managing and monitoring the cloud edition PBX is easy with Yeastar's Central Management portal. In a matter of clicks, administrators can

monitor, provision, and manage their networks' Yeastar devices easily and securely from anywhere. Among other things, YCM:
Enables telecom resellers to create a new Cloud PBX instance within a few minutes

Allows resellers to centrally manage their Cloud PBX instances, including implementing upgrades and backups.

Shows real-time status of all Cloud PBXs and if there is any issues, YCM will send alerts to the reseller.

YCM also offers a white-labeling feature that allows resellers to feature their own logo and branding. For more details about the benefits and features of YCM, access the on-demand webinar here.
Key benefits of the cloud-based P-Series IP PBX
The key advantages of the cloud-based P-Series solution include the following:
The virtual unification of headquarters, branches, remote offices, and teleworkers seamlessly and securely
Equipping the agile workforce with Linkus UC Clients (softphones) to work from anywhere
Access to a series of UC tools, delivering a lightweight call experience via the web
Optimization of call center agent productivity for providing excellent service to customers in a budget-friendly way
The ability to engage geographically dispersed employees with integrated videoconferencing
The capability to interconnect a wide variety of IP phones, intercom systems and SIP-compliant endpoints
Aligning with today's telecommunications trends
Cloud technology is not a new trend by any means. What is new is the dramatic growth of cloud adoption over the past couple of years due to recent world events. According to McKinsey & Company, the majority of companies will spend 80% of their ICT (information and communications technology) hosting budgets on the cloud.
Today's businesses are continually migrating away from on-site equipment to cloud-based services, enabling true digital transformation for their organizations.
As such, the future of work is expected to be hybrid, with more employees using their personal devices for work while leveraging cloud-based, network-delivered services. All these factors are driving companies to seek out cloud-based communication solutions. This is the market that the Yeastar P-series cloud-based solutions are designed to serve.
Conclusion
Yeastar is building on a legacy of well-designed, ergonomic and cost-effective P-series IP PBX solutions, including both appliance-based and software-based solutions, each focusing on a different type of enterprise. Now, Yeastar has completed the triad of service options by delivering the same great features in a completely cloud-based, subscription-oriented service, enabling a full spectrum of options to suit the communication needs of virtually any business.
---
You may also like:
Yeastar announces end of sales for S-series IP PBXs
New features in Yeastar's P-series IP PBX system
What UCaaS can offer your business