Product Review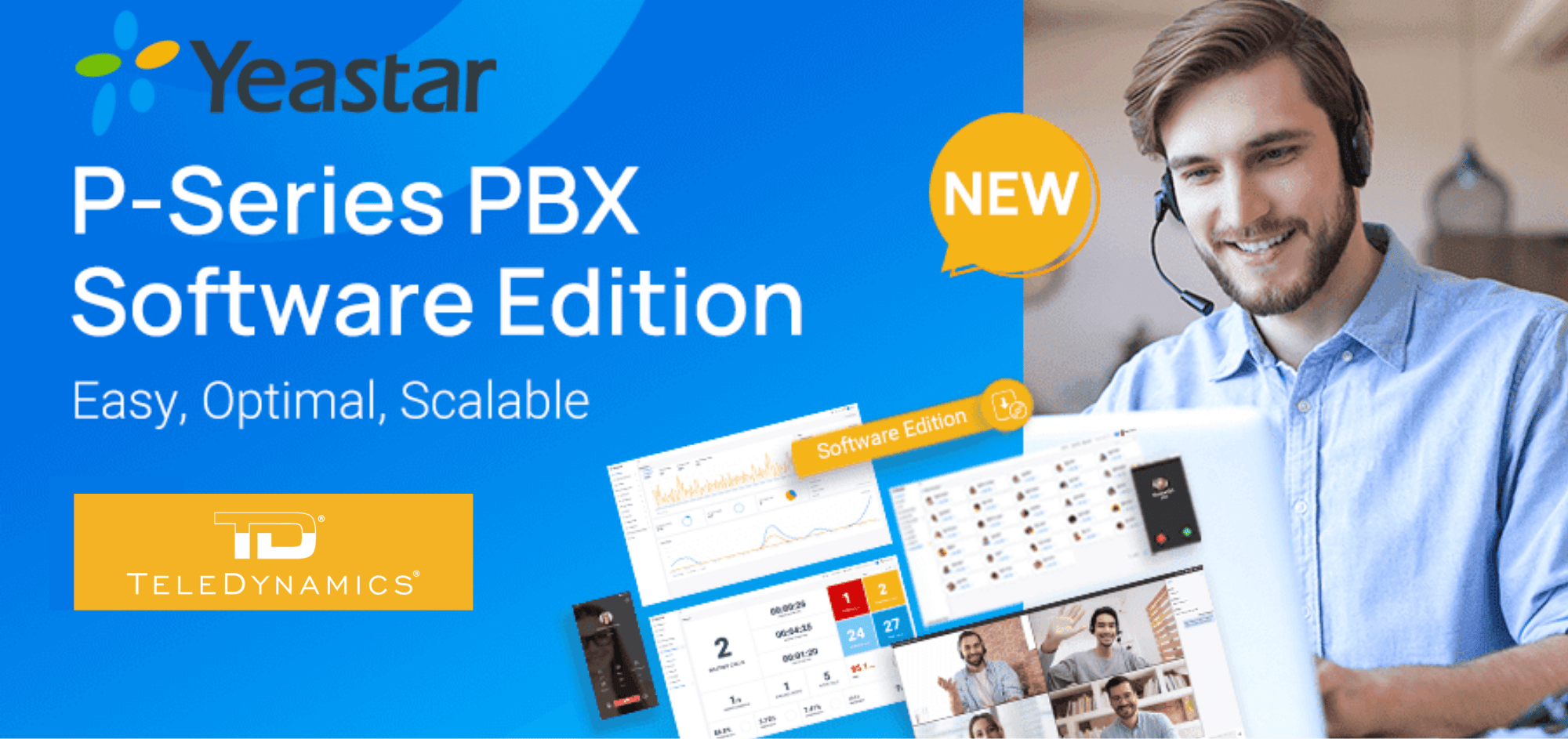 Yeastar's P-Series PBX System is an innovative and powerful series of VoIP servers that are purpose-built for small to medium-sized businesses. So far, the series has been available as an appliance; that is, a device that gets installed at the physical location of your business. Recently, however, Yeastar has introduced the software edition to the P-Series PBXs, delivering even more versatility and installation options.
We're excited about this new development, and in this article we showcase the advantages of Yeastar's P-Series as a whole while also focusing a little more on the advantages of the software edition.
P-Series PBX overview
The P-Series PBX Systems have been designed from the ground up to incorporate the features and services most needed by SMEs (small- to medium-sized enterprises) in the simplest and most turn-key manner. All deployment options offer solutions that fulfill even the most sophisticated communication needs. The P-Series PBXs provide a converged system around which a suite of services can be "wrapped," including voice, video, business applications, collaboration, and more.
The primary framework of these VoIP servers delivers a set of applications for some of the most commonly used platforms, such as Android, iOS, Windows, Mac, and Linux devices. Web-based applications are also supported, essentially enabling anyone on any platform to turn their device (mobile phone, tablet, or desktop) into an office extension.
Using the Linkus UC Client software and mobile app allows you to stay connected and productive in the office, on the go, or even working from home.
P-Series PBX features
Some of the most useful features this Yeastar series has to offer include:
Advanced distributed telephony features
One-number reach on any device
Presence features allow you to see the status of your colleagues
Instant messaging and file sharing
Play or transcribe voicemails
Click-to-call from any web page
Integrated video conferencing and collaboration
Initiate and participate in meetings right from a web browser
No additional applications or plug-ins are needed
Colleagues and clients can be invited to a meeting with a simple link
Hear and see others in crystal clear HD audio and video
Screen sharing and group chat capabilities are included
Call Center features and applications
Automatic call distribution (ACD) - Route incoming calls to the proper queue and the correct available agent based on certain strategies you set up.
Interactive voice response (IVR) – In conjunction with ACD, IVR prompts callers to make choices, which helps in sorting out callers, especially during periods of high incoming call volumes.
Queue panel – View a real-time display of incoming calls, call wait times, agent status, as well as queue-related statistics to more efficiently manage your call center.
Application integrations
In addition to these features, the P-Series can also be integrated with various third-party business and communications applications. Some of the most prominent include Microsoft Teams for full unified communications operations directly from the Teams app, as well as Zoho for CRM integrations that generate incoming call pop-ups, auto-call journals, and click-to-call CRM contacts.
Yeastar's P-Series software edition
Earlier in 2021 we discussed Yeastar's P-Series PBXs and analyzed the various advantages of the series for virtually all SMEs. Besides its rich feature set, the P-Series is now available as a software edition, meaning you can easily install it as software on your own virtual infrastructure in your own data center. Alternatively, you can install it in the cloud on a commercially available cloud service provider.
Both solutions will give you even more flexibility and scalability as the needs, requirements, and ultimate capacities of your communications system change with your business. Here are some more advantages of choosing a virtual implementation:
Flexible deployments – Deploy it either as an on-premises option in a company's own data center, virtualized using VMware or Microsoft Hyper-V, or as a cloud service.
Easy to scale – Quickly scale users with flexible license options, giving you peace of mind even in the face of significant staffing changes.
Stay in control – On-premises options ensure that your system runs securely and independently. This option is ideal for businesses with higher requirements on system control.
Time-saving – Either on a local or cloud server, the time required to keep it up and running is kept to a minimum. Quickly get started with the built-in launch wizard.
Yeastar offers a 30-day trial license that allows you to enjoy the use of a full-featured, software-based P-Series PBX to get a feel for the kind of service that you can come to expect from such a setup.
Innovative, subscription-based procurement
Regardless of whether you choose a software or appliance-based implementation, Yeastar offers an innovative, three-tiered subscription framework. The Basic tier, the first of the three plans, is an appliance-only plan that comes with the hardware. The next two tiers, the Enterprise and Ultimate plans, have additional features, such as call center, remote access, instant messaging, and video conferencing, to name a few. The software version of the PBX is available only with the Enterprise and Ultimate plans.
This way, SMEs can purchase only what they need and what they'll actually use, thus achieving a more cost-effective solution.
Conclusion
Yealink's software addition to its line of VoIP servers seems to be a natural evolutionary step for this series of PBXs. The only logical next step is to deploy such a VoIP PBX as an SaaS cloud platform, something that, according to the Yeastar website, is coming soon.


---
You may also like:
How Yeastar's P-Series PBX System elevates communications for SMEs
Yeastar IP PBX integration with Microsoft Teams
The three most prominent cloud services models for VoIP