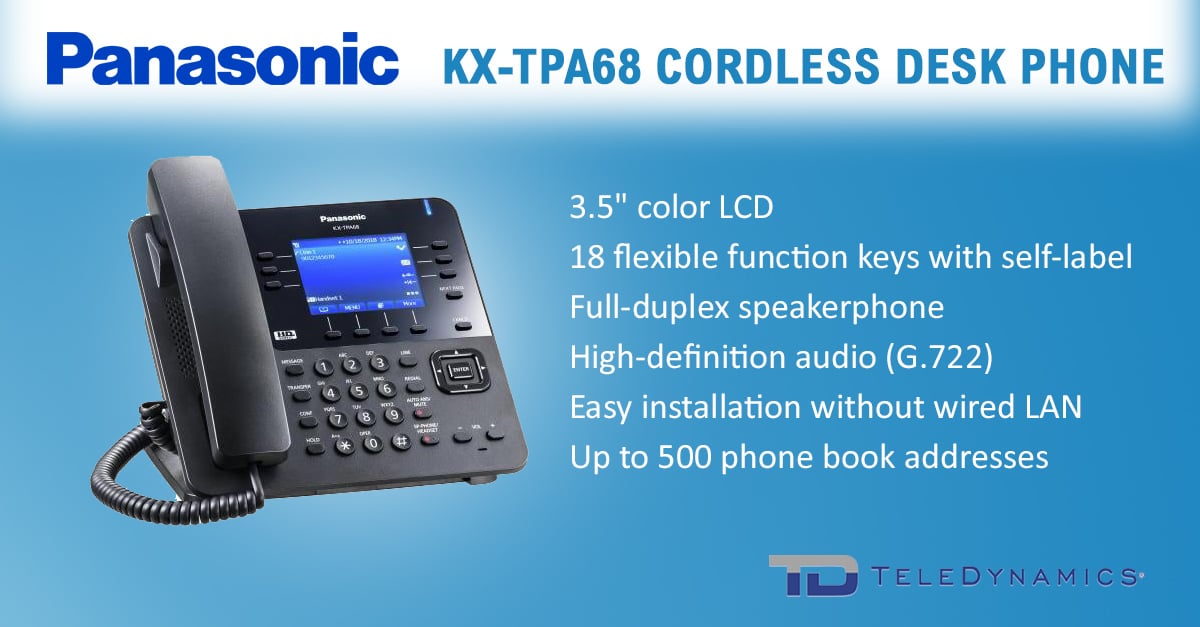 In this article we take a look at the Panasonic KX-TPA68 SIP-DECT cordless desk phone, a next-generation cordless communication terminal designed for the KX-TGP600 SIP-DECT cordless phone system. Keep reading to learn about some of the features that makes this modern and elegant desk phone ideal for all types of small to medium-sized businesses.


Unifying SIP and DECT technologies
Like the other models in the KX-TGP600 system, the KX-TPA68 desk phone combines the convenience of cordless DECT technology with the advanced feature set of SIP, in a robust and eye-catching desk phone.
This combination has resulted in an advanced-level phone that is easy to use, compatible with SIP servers from virtually any vendor, and exceptionally simple to deploy.


Why a cordless desk phone?
Desk phones are traditionally anchored to the desks they sit on. But the KX-TPA68 can move freely about the premises. The mobility provided by DECT is useful for various reasons. For instance, with its high-definition audio and full-duplex speakerphone, you can turn any room into a teleconference meeting room by bringing the phone with you. Even a warehouse can be turned into an impromptu meeting area, as long as you are within range of a base station.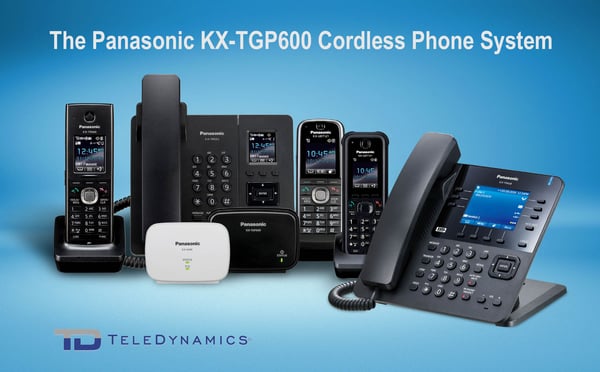 As part of the KX-TGP600 SIP-DECT system, the KX-TPA68 is also useful for temporary deployments where office space is being used for the short term, or for office spaces whose arrangements are changed periodically. Even for permanent implementations, the benefits of decreased deployment times as well as a reduction in cabling infrastructure costs are quite attractive, and are often key selling points for this phone and its associated system.


Highlights and key features
Like most Panasonic phones, the KX-TPA68 is elegant and modern in its design. It has a large color display and enhanced user interface. The device includes 18 self-labeling flexible function keys, arranged as three pages of six keys, where each key label includes a description and status information. Sound quality has been improved compared with previous models, with a full-duplex speakerphone sporting an additional 4 dB of voice volume. With the noise-reduction feature, sound levels are automatically adjusted in noisy environments.
This endpoint supports many of the most recent DECT and VoIP features, including DECT 6.0, CAT-iq, and high-definition codecs such as G.722. The phone is compatible both with SIP servers locally installed on the LAN and most cloud-based VoIP providers.


Watch the video

Key feature list
Features of the KX-TPA68 device include:
5-inch 320 x 240 pixel color LCD display with backlight

Four softkeys

18 flexible function keys (3 pages of 6 keys)

Full-duplex speakerphone

Wideband audio

Phone book for up to 500 numbers

Placed call log of up to 20 numbers

Received/missed call log of up to 20 numbers

27 ringtones

5 mm audio jack for headset

DECT 6.0 with CAT-iq and DECT Security-STEP A for secure conversations

DECT power save mode

DECT encryption
View or download the KX-TGP600 system brochure.
View or download the KX-TPA68 SIP-DECT desk phone spec sheet.

Conclusion
For small to medium-sized businesses looking for a cost-effective and rapidly deployable telephony system, the KX-TGP600 is an ideal choice. For those deployments requiring desk phones in an office environment, the TPA68 SIP-DECT endpoint is perfect for high-volume users that need time-saving telephony features to streamline their communications needs.


---
You may also like:
What's impressive about Panasonic's KX-TGP600 SIP-DECT phone system
Introducing the Panasonic mobile soft phone
Interview with Panasonic about UC Pro 2