Product review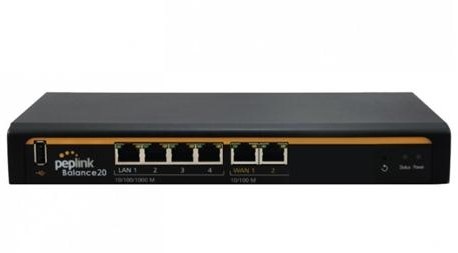 There are several ISPs (internet service providers) that can provide your business with high- and super-high speed internet access. These technologies include Metro Ethernet and Fiber to the Premises (FTTP) and offer speeds from several Mbps to 1 Gbps and beyond – but with a hefty price tag.
An alternative is the bonding of multiple ADSL/VDSL or cable lines to take advantage of the aggregate bandwidth of these connections while paying a comparably miniscule monthly cost. All that's needed is a load balancing WAN router like Peplink's Pepwave Balance 20 Dual-WAN Router.
Designed for small office and branch office use, not only does the Balance 20 router perform link bonding and load balancing, but it also offers an impressive array of additional features.



Specifications at a glance
2 Ethernet WAN Ports

Third WAN path available via USB tethering with an Android device or via a 4G modem with a SIM card

4 Ethernet LAN Ports

1 Integrated USB WAN Port

Load Balancing and Failover

Peplink InControl cloud-based device management

IPSec VPN setup with PepVPN

Integrated AP Controller for managing up to 10 Wi-Fi access points


Link bonding features

Right out of the box, the Balance 20 is capable of bonding two internet links, or up to three with the purchase of the appropriate license. The WAN links can be configured to provide load balancing of data streams, thus increasing the total available throughput. The router can also be configured to function in failover mode, whereby if the first link fails, the next configured link takes over. This is especially useful for organizations where high availability is critical to their business.


Load Balancing Algorithms
Load balancing technologies are often misunderstood. Some believe that the full bandwidth of all WAN links is available to any one host on the internal network, which is not the case. A load balancing router must efficiently and effectively distribute the hosts among the available WAN links to maximize bandwidth usage. The Balance 20 router leverages seven application-aware link load-balancing algorithms and customizable rules to achieve this. Traffic priorities can be configured, including those for VoIP and custom application traffic.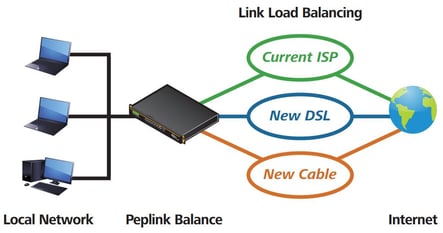 Additional router features
Like some other load balancing routers on the market, the Balance 20 offers IPSec VPN services that allow you to securely extend your LAN to remote branches or even to individual mobile workers. Using the PepVPN site-to-site VPN technology, it is incredibly easy to create and maintain a VPN with remote sites in a static or dynamic IP environment, with or without NAT, and even with third party hardware.

Supplementary features that add to this device's value include:
Gigabit Ethernet on both LAN and WAN ports

An aggregate throughput of up to 150 Mbps

Support for up to sixteen 802.1q VLANs

Support for up to two simultaneous site-to-site VPNs and 15 single-user VPN connections

Advanced QoS functionality for voice and e-commerce applications


Advanced features
What really makes this product stand above and beyond the rest is the addition of smart features that are rarely found in other devices in its class. These include:
The integration of Peplink's InControl, a cloud-based device management monitoring and reporting tool for all your Peplink devices.


Integrated AP Controller that can control up to ten Wi-Fi access points for your wireless connectivity needs. This controller supports one configuration profile with multiple SSIDs, so all the APs must share the same configuration and be managed on the local physical LAN. If you need to support multiple configuration profiles and manage APs outside of the local network, choose a Pepwave Balance model with "AP Controller Pro."


A USB port provides an additional WAN path for use with a 4G modem or, in a pinch, can even take advantage of Android tethering. The USB port can participate in both the load balancing and failover functionalities of the router.


Easy set-up and use
Our experience with a test unit confirmed that the Peplink Balance 20 router is very easy to set up and configure, and the graphical interface is simple to manage. We hooked it up to a third-party Wi-Fi access point and it worked seamlessly.


CONCLUSION
The Balance 20 router is a physical edge router with excellent multi-WAN support and is very capable of bonding, load balancing, and failing over multiple WAN connections. Its additional features very intelligently cover many of the bases that a small-to medium-sized business requires from its network, including security, wireless and redundancy, all with an easy-to-use, reliable and intuitive graphical interface.


---
You may also like:
Achieve high availability without high cost!
Six techniques for making your network installations quicker and easier
Should your business go all-IP?