Product Review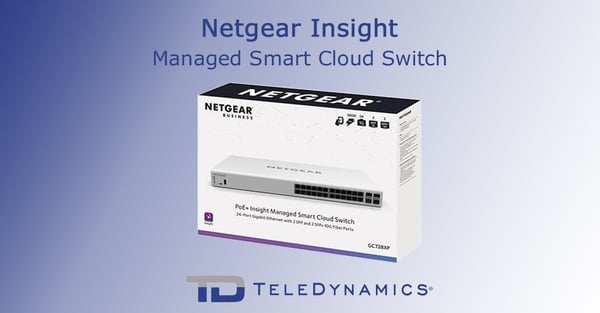 Netgear, a company with a heritage spanning over 22 years (an eternity in the telecom market), is steadily gaining prestige and recognition for the quality of its products and their attractive quality/price ratio (QPR).
In this article we review Netgear's Insight Managed Gigabit Ethernet/10G SFP+ Smart Cloud Switches, which are incredibly feature-rich considering their affordable price point!

Network architecture
To understand how the Insight switches fit into the design of an enterprise network, let's review the three major hierarchical layers of a network: the core layer (also called the backbone), the distribution layer and the access layer. The following diagram illustrates this hierarchical model.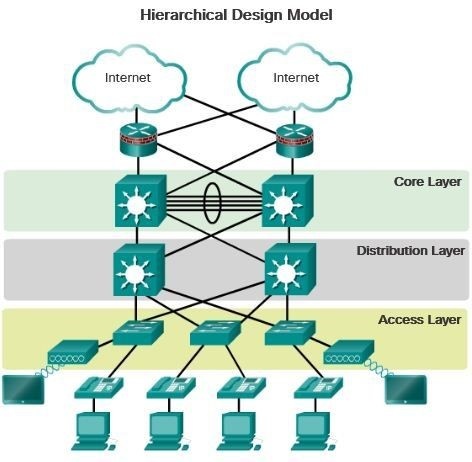 The core layer is responsible for connectivity to the internet and interconnectivity between lower-layer sections of the enterprise network. It contains devices of the highest capacity in CPU power, memory, and available bandwidth in order to carry and route the high volume of aggregated network data from the lower layers.
The distribution layer acts as the interface between the access and core layers, and is responsible for providing routing, quality of service mechanisms and packet filtering.
The access layer is the part of the network that connects the end users. IP telephones, PCs, wireless clients, printers, cameras, and other IP-enabled devices connect to the switches in this layer to gain access to the network itself.
Netgear's Insight switches reside in the access layer.

Why Insight switches are ideal for the access layer
The Insight series of switches are ideal for the access layer of the hierarchical model of an enterprise network. They feature 24 RJ-45 Gigabit Ethernet ports for high per-user speeds, two Gigabit Ethernet SFP uplink ports that can terminate fiber optic cabling, and two 10 Gigabit Ethernet SFP+ uplink ports for an especially high bandwidth connection to the distribution layer.
It is noteworthy that these switches have two uplinks with speeds of 10 Gbps because:
Two uplinks provide redundancy, offering a more robust and resilient network design

The two uplinks can be configured as aggregated links, supplying a total of 20 Gbps of bandwidth for uplink speeds under normal operation
Looking closely at the access and distribution layers, you can see that, ideally, each access layer switch should have two uplinks to two different distribution layer switches.
Having two 10 Gbps uplinks for such a purpose is especially desirable when considering that up to 24 devices will be connected to an access layer switch at any given time via 1Gbps connections. If wireless access points are connected to these switches, the number of end devices per switch increases even more.

Cloud management
Netgear's Insight switches are managed switches, which means they can be configured to accommodate the needs of the specific enterprise network. Configuration can take place using a web-based GUI, the SNMP protocol, or an RMON command line interface. They can also be integrated into an overall cloud management platform and managed as part of the overall network using Netgear's Insight mobile app or Insight Cloud Portal. Remote management can take place from a mobile device, PC, Mac, or tablet. This greatly reduces the amount of time needed for enterprise network management because the network is configured as a single entity rather than on each individual device.

The GC728X and GC728XP models
Netgear's Insight switches come in two models: the GC728X and the GC728XP. Both share the same features, while the GC728XP model, in addition, supplies Power over Ethernet Plus (PoE+) to devices that are compliant with the IEEE 802.3at PoE standard. The total power budget of the switch is 390W, which adequately provides power to 24 PoE+ devices requiring an average of 16.25W each. Most of today's IP telephones and a substantial number of wireless access points and IP cameras can function with power requirements much lower than this average, making the GC728XP sufficient for the vast majority of applications.

Additional noteworthy capabilities
With speeds of 1Gbps on up to 26 ports (including the two SFP 1Gbps ports) and 10Gbps speeds on two SFP+ ports, Insight switches must be capable of carrying the aggregate data transfer rates of all these interfaces simultaneously. The internal network fiber, also known as the backplane, is the path that packets take when switched from one port to another. It is important that these pathways be fast enough to not become a bottleneck for network traffic, especially for high-demand applications. The Insight switches deliver full-duplex backplane speeds of 92Gbps, which is more than enough for all interfaces operating simultaneously at their top speeds.
Insight switches also provide Layer 3 (network layer) features such as access lists, quality of service for voice and other time-sensitive applications, and support for the IPv6 protocol and its features. Layer 4 (transport layer) functionality is also included, allowing filtering of application-specific traffic.
Key features of Netgear's Insight switches
Key features of the devices include:
24 RJ-45 1Gbps ports

2 SFP 1Gbps ports for fiber optic cables

2 SFP+ 10Gbps ports for fiber optic cables

92 Gbps full-duplex backplane data rate

VLAN configuration and types include static, dynamic, voice, protocol-based, and private

Quality of service mechanisms

Access lists

Supports IPv4 and IPv6

Port security and AAA support RADIUS and 802.1X

LACP Link aggregation

Static routing supported

Cloud management capable

PoE+ with a capacity of up to 390W for the GC728XP model

CONCLUSION
Netgear's Insight switches are incredibly feature-rich for their price point. With cloud management capabilities, remote monitoring features, and extensive Layer 2 to Layer 4 configuration options, these switches can be configured to fulfill the access layer needs of almost any enterprise network.

Browse Netgear products on TeleDynamics' website.


---
You may also like:
WAN connections and the SIP trunk: what's the connection?
How much would your business benefit from cloud-based UC?
How micro-enterprises can benefit from VoIP