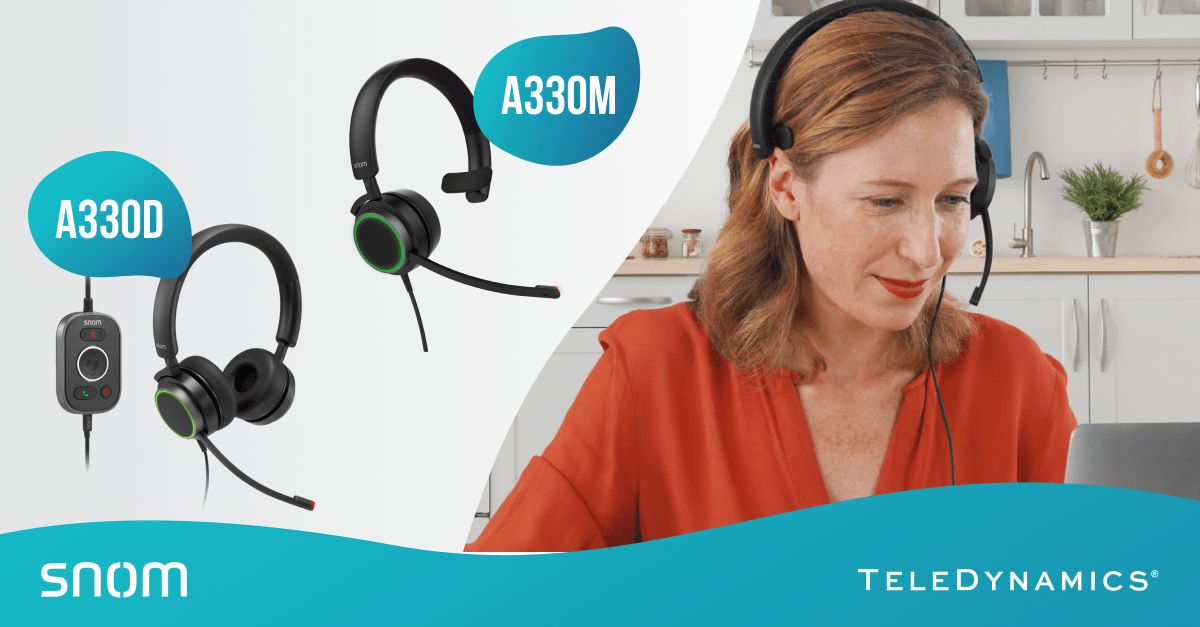 Article contributed by Snom Americas
Snom has established itself as a reliable brand in the communication solutions world, and its foray into headsets is no different. The A330M and A330D headsets combine the latest technology with ergonomic design, making them suitable for various applications.
Whether you're at the office, working remotely, or providing customer service, these headsets offer the perfect blend of comfort, quality, and versatility.
Unfurl the magic
One of the standout features of the Snom A330M and A330D headsets is their exceptional audio quality. Equipped with full-band audio in the speaker, it delivers a rich, immersive sound experience that makes every conversation vivid and lifelike.
Whether you're on a conference call or simply chatting with a colleague, their audio quality sets a new standard for headsets.
But they don't stop at exceptional audio. It also boasts a microphone with passive background noise suppression. This means that even in noisy environments, your voice takes center stage. Say goodbye to background noise distractions, and make every conversation count.
Comfort redefined
Comfort during long hours of use is a priority, and the A330M and A330D excel in this area. The ear pad, made from soft synthetic leather with memory foam filling, provides a plush fit that eliminates uncomfortable pressure points.
Whether you're in a quick call or a marathon virtual meeting, you can count on the Snom headsets to keep you comfortable throughout.
The adjustable headband is another comfort feature. Padded for your convenience, it extends up to 35mm, ensuring a secure fit for various head sizes. No more worries about an ill-fitting headset causing discomfort during your day.
Versatile connectivity
The A330M and A330D are designed to be versatile. Both devices can be effortlessly connected through a 3.5mm jack plug, allowing you to use them with a wide range of devices.
Additionally, they seamlessly integrate with Snom IP desk phones and computers via USB, expanding their functionality beyond traditional phone calls.
This adaptability means that they can become your go-to headset for a variety of communications software platforms. Their use is not limited to telephony but can enhance your overall communications experience.
Key features and specs
The A330M and A330D have one major difference: The A330M is monaural, while the A330D is binaural.
This makes the A330M ideal for environments where you need to be aware of things happening around you, such as in an office where you often interact with colleagues.
The A330D, on the other hand, is perfect for environments where you want to isolate yourself from your surroundings, such as in a contact center scenario or even when working remotely in a noisy setting.
Beyond this difference, these two headsets share the same set of exceptional features, including:
3-axis adjustment replaceable ear cushions

Full-band audio reproduction (20Hz – 20kHz)

Passive noise-cancelling microphone

Powered by USB

Wired interfaces include:

1 USB 2.0 type A connector (remote control side)

3.5 mm headset plug (headset side)

3.5 mm headset socket (remote control side)

Remote control with five hard keys, including:

Mute (with red LED)

Volume + and Volume -

Talk (with green LED)

A red busy light indicating you are on an active call

Plug-and-play interoperability with

Snom phones

and works with:

Microsoft Teams

Google Meet

Zoom

Slack

Skype
Conclusion
The Snom A330M and A330D headsets are perfect for those seeking optimal audio quality and versatility. Their design and features cater to various communications needs, making them a worthy investment for casual and professional users.
As the world of communications continues to evolve, it's paramount to have equipment that keeps up; these headsets are a testament to that principle.


---
You may also like:
The remarkable key system functionality of Snom's M500 DECT base station
Businesses that get big benefits from Snom M500 Pro DECT phones