TeleDynamics Think Tank named Blog of the Year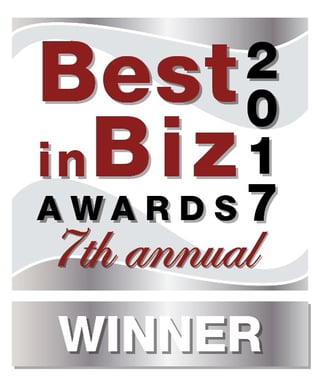 We are pleased to announce that TeleDynamics has been named a silver winner in the Blog of the Year category in Best in Biz Awards.
Launched in March 2016, the Think Tank blog leverages TeleDynamics' in-house expertise in Session Initiation Protocol (SIP), Voice over Internet Protocol (VoIP) and networking to create content that will help telephone systems channel partners build successful businesses.


A Texas-sized thank you!
We would like to thank our customers, who by reading our articles and engaging with us through the blog have fueled its success. We are also grateful to our manufacturers and partners, who have contributed content as guest bloggers or have shared customer success stories and other content.
"We created the Think Tank blog as a way to provide a valuable information resource for our customers," said Maria Leyendecker, Director of Marketing at TeleDynamics. "Our relationship with our dealers is what matters most to us, and we have enjoyed leveraging this platform as one of many ways to engage with them."
In case you were wondering….
Our most-viewed blog post to-date is, How to troubleshoot one-way and no-way audio on VoIP calls.
The second most-viewed blog article to-date is our review of Grandstream's GWN7610 Wi-Fi access point.
The Think Tank article with the most engagement (likes, shares, etc.) to-date is, The five trends that will define the evolution of VoIP.


A few details about the awards
Best in Biz Awards is the only independent business awards program judged each year by prominent editors and reporters from top-tier publications in North America. Each year, Best in Biz Awards' entrants span the spectrum, from innovative local start-ups to well-known global brands. The seventh annual program was hotly contested, with more than 650 entries from public and private companies of all sizes and from a variety of industries across the U.S. and Canada. Best in Biz Awards 2017 honors were presented in 65 categories.
Since 2011, winners of Best in Biz Awards have been determined based on scoring from independent judging panels composed of prominent editors and reporters from some of the most respected newspapers, TV outlets, and business, consumer, technology and trade publications in North America. Best in Biz Awards' uniqueness stems, in part, from this distinct composition of its judging panels, allowing it to best leverage the judges' expertise, experience and objectivity to determine award winners. The 2017 judging panel included: Accounting Today, AdWeek, Associated Press, Atlanta Tribune, Business News Daily, Consumer Affairs, Entrepreneur, eWeek, Forbes, Harvard Business Review, Healthcare Innovation News, Inc., Investment Advisor Magazine, Laptop, MediaPost, Pittsburgh Business Times, Security Products Magazine, Wired, WLRN and Yahoo Tech.
For a full list of gold, silver and bronze winners in Best in Biz Awards 2017, visit: http://www.bestinbizawards.com/2017-winners.


---
You may also like :
How WebRTC can benefit your business
Give superpowers to your WAN through software management
Improve your customers' digital dexterity with VoIP