Sneak preview of new enhancements coming later this year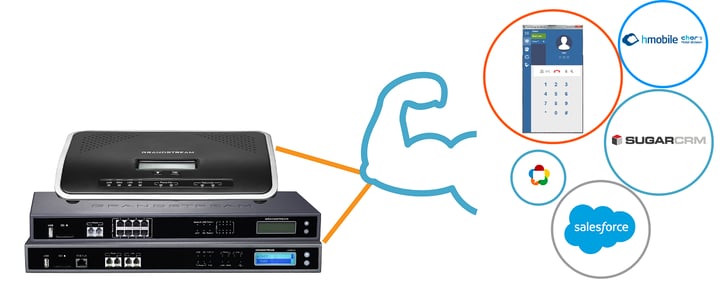 By Kate Clavet, Marketing Specialist, Grandstream Networks


It's becoming imperative for any business to have tools available that not only enhance their internal communication but also keep their customers coming back. With so little face time (thanks to the internet), a customer's experience is increasingly important. Grandstream's UCM IP PBX series is a practical way to manage your communication without compromising on features or emptying your wallet. After all, we're always striving to improve our customer's experience and, by extension, yours.


To maintain a high level of service, there must be tools in place that highlight efficiency and collect data so that customer service, lead follow-up, etc. can be measured. Without metrics and data for evaluation, maintaining a positive customer experience is nearly impossible. Grandstream wants to make that easier for you. In the second and third quarters of 2017, a lot of enhancements are coming your way.
The UCM Series IP PBX will integrate with the following:
Customer Relationship Management (CRM) software

WebRTC

Computer Telephony Integration (CTI) application

H-Mobile Property Management Software
All these enhancements will allow for a more efficient use of the UCM IP PBX and the data it provides access to.
Detailed call records will be available whether a call is made from the CTI app or a desk phone.


Integrating with SugarCRM and Salesforce CRM empowers employees to be more effective in keeping track of their contacts and lead status. Sometimes, administrative tasks detract from the time that sales people have to engage with current and potential customers. By integrating a VoIP solution with a CRM, you are empowering your employees to be more effective and allowing them to focus on what really matters—their customers.

Also available are the advantages of WebRTC. Utilizing WebRTC makes your company more available to customers, allowing them to reach you more easily.

How does CTI benefit you?
Today's calling needs to be efficient, flexible, and well-documented. Detailed call records enable a company to keep track of how long different agents take, how many outgoing and incoming calls sales people have, and evaluate the customer experience. Are technical support calls taking too long? Do agents need to be retrained? Are sales people slacking in following up on leads? In an overly digital world, any phone time with team members of your company is important.

Computer telephony integration (CTI) will allow you to dial out directly from your computer and have full access to your call history. You can also manage normal call functions like DND, and call forwarding. The set up only takes two minutes and is a Grandstream-provided solution.


Why integrate a CRM and a VoIP Solution?
You can connect third-party CRM interfaces such as Salesforce and SugarCRM using an API. SugarCRM will support querying, updating and adding CDR records as does Salesforce. This allows managers and sales people to better track their success, manage their workload, and keep in touch with customers to maximize sales.


How does using WebRTC help your business?
WebRTC enhances the customer experience by making their lives easier. In a time where answers are almost always instantly available, speed and ease are necessary. By enabling WebRTC calls, you can make quick click-to-call links on your website, making help and answers only a click away. Capturing that question or sales call can reduce the risk of the customer's losing interest and moving on.


What are the benefits of H-Mobile Property Management Systems Support?
The UCM integration with H-Mobile currently allows for property management in hotels and bed and breakfasts. It can handle hotel room requests and make wakeup calls. The future changes will allow for mini bar control as well. This enhancement will further expand the customer base of the UCM, and enable smaller bed and breakfasts to use Grandstream's feature-rich IP PBX.

These changes will all be made via a powerful firmware update, which will be posted on Grandstream's website once it's available.


JOIN THE WEBINAR
To learn more about these enhancements, configuring WebRTC, and a sneak peak of more to come, join me and TeleDynamics on Tuesday, March 21 for a brief webinar. Spaces are limited, so register here to reserve your spot.
---
You may also like:
Are you still only using your IP PBX for voice communications?
Grow your business and boost customer satisfaction with VoIP phone system integrations
How VoIP can boost your business productivity