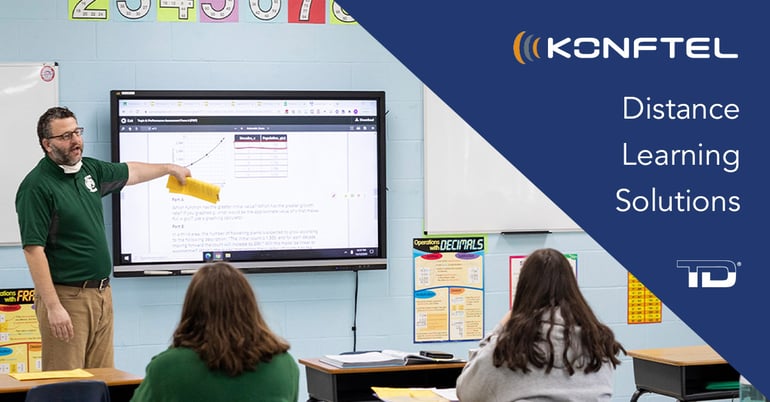 There is no doubt that the mandated measures in response to the COVID-19 pandemic have had an adverse effect on learning. Many refer to a global 'learning poverty' crisis as over 1.6 billion students have been out of school. For half of those students, school closures have exceeded seven months.
Remote learning solutions are being adopted at breakneck speeds to alleviate this problem. In this article, we look at the success of St. Jude School in Elyria, Ohio with Konftel's distance learning equipment.
We recently reviewed Konftel's solutions for distance learning on our Think Tank. Konftel's collaboration and remote learning kits offer exactly what remote learning needs: reliability, ease of use, and outstanding quality – all at reasonable prices.


St. Jude School's success with Konftel
When the social distancing guidelines came into effect in March of 2020, St. Jude School closed its doors along with the other schools in the state. In August, they were able to reopen with two learning options for their students.
Doug Hopiard, director of IT and integration at St. Jude, said, "We now have approximately 75 percent of students attending daily and 25 percent choosing to learn remotely. We wanted to accommodate and support the students and parents who chose remote learning, and that's where the Konftel solutions come in."
St. Jude School upgraded its remote learning tools with a Konftel package consisting of two different camera models, the Konftel Cam20 and the Konftel Cam50 conference cameras. These were integrated with electronic SMART boards, projectors, and Google Meet, as a part of Google Suite for Education. The remote students are displayed on a secondary 32" monitor so the teachers and class can see each other and interact. Some classrooms have upgraded to Viewsonic boards – large, 65" LCD television panels.


Primary benefits
The benefits of this arrangement emphasized by both teachers and students include:
The ability for teachers to bring laptops with all of their prepared material and content and simply connect them to the system
The simplicity of connecting all hardware (laptop, cameras, primary and secondary monitors) with the one-cable connection hub
High-quality audio and video
Easy to set up and maintain
More information about this case study can be found at the St. Jude School Collaboration Case Study page on Konftel's website. You can learn more about Konfel's videoconferencing kits here, or browse TeleDynamics' website to access the product documents and pricing.


Ready to learn more? Get a free demo.
If you are not sure which video conferencing kit is right for your environment, you can arrange to have a personal live demo with one of Konftel's experts. Share with them the needs of your school, educational institution, or training facility, and they will offer their recommendations. You will also be able to experience for yourself what each kit has to offer, allowing you to make the best possible choice.


Conclusion
In addition to creating a high-quality audio and video experience, Konftel's videoconferencing solutions are easy to use and deploy, as well as simple to integrate with other equipment, making them an ideal choice for schools who need to deliver remote learning options to their students.


---
You may also like:
Konftel's solutions for distance learning
Make videoconferencing easy with Konftel C50XX plug-and-play kits
Konftel's new CC200 computerless collaboration camera