Product Review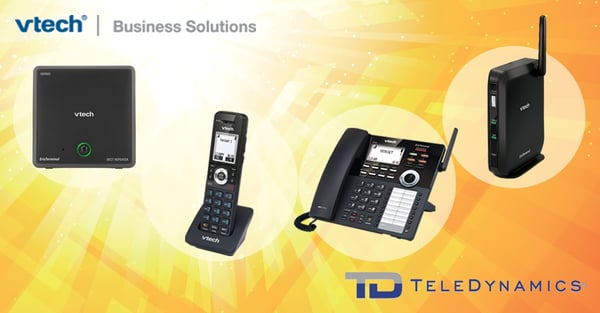 In a competitive and fast-changing market, telephony solutions for any business must offer flexibility, the ability to scale, and the capability to adapt and expand to meet the needs of the client without breaking the bank. This is especially true of small to medium-sized businesses that don't have the luxury of spending large sums of money for their communications system.
With these challenges in mind, VTech presents a new line of wireless telephony products that offer the ultimate package when it comes to scalability, modularity, and value for money in both the short and long term. The VDP650 series of base stations, repeaters, and wireless phones provides a complete solution for any SMB requiring employee mobility, without compromising on exceptional quality and an innovative feature set. This combination of mobility and quality make it ideal for companies whose employees need to roam within the workplace like hospitals, manufacturing plants, department stores or universities, to name a few.
The new line is composed of the VDP650 base station, the VDP651 wireless handset, the VDP658 wireless desk phone, and the VSP605 repeater. When employed together in a total wireless voice solution, these devices can fulfill the needs of almost any SMB.

The coupling of DECT and SIP technologies
One of the most innovative features of this solution is the way in which VTech has taken two tried and tested technologies, Session Initiation Protocol (SIP) and Digital Enhanced Cordless Telecommunications (DECT) and coupled them into a single product line.
SIP, the primary protocol used in Voice over IP (VoIP) solutions, allows for the convergence of the data network with the voice network, enabling the installation of the VDP650 base station at any location where there is connectivity to the organization's network, either through structured cabling, or through a single UTP cable specifically installed for this purpose.
DECT supplies a wireless infrastructure on which telephony end devices can reliably and securely connect, with all of the encryption, codecs, and power output options predefined. No tweaking of configurations is necessary, as this is a technology that has already been optimized for wireless voice.
These two technologies together supply SMBs with a state-of-the-art, almost turnkey solution to cordless telephony in the workplace.


Key system emulation and global hold
VTech has added a groundbreaking feature to this system called key system emulation or line key emulation. Remember the days of legacy PBXs when calls came across on lines that lit up on the phones to let you know which line was ringing? If the receptionist called you and said you had a call waiting on line 3, you would know exactly which line to pick up. Moreover, the call could be picked up from any phone in the office, since the ringing lines lit up on all the phones in the system.
Things are not so simple with SIP. Since calls don't come in on lines and there are no "line keys" on the phones, special configuration has to be done both on the IP PBX as well as on the endpoints in order to mimic this feature. With SIP, it's called shared call appearance (SCA), but not all IP PBXs and hosted VoIP providers offer it. And when they do, some other features are sacrificed to accomplish it.
That's the magic of the key system emulation included with the VTech VDP650 system. The VDP651 cordless handset has four LED-backlit hard line keys, which is a market first for a cordless handset. The VDP658 desk phone also has four line keys with indicator lights that switch from red to green when the line is ringing. Even if you don't have SCA from your IP PBX or VoIP provider, the line key emulation is already built in and functional on the VTech system.
The line keys are also fully customizable. You can have all of the lines (or, technically, SIP accounts as each "line" is really a SIP account in this case) ring on all of the endpoints, or you can choose which SIP accounts you want to ring on which endpoint(s), and even on which button(s) on a given endpoint.
Another innovative feature that mimics the way legacy PBXs work is shared hold. When a call is placed on hold from one endpoint, all the other endpoints can see that a call is placed on hold and retrieve the call. Putting a call on hold is as simple as pushing the HOLD button, featured on both the cordless handset and the desk phone. Normally, with SIP you don't have shared hold. Rather, you have to "park" the call at a virtual extension. Then the call can be retrieved by dialing that extension number. Again, VTech's hold feature can be customized so you can choose the SIP accounts for which each endpoint can see and retrieve calls on hold.
Line key emulation and global hold are two innovative features that take ease of use and efficiency in SIP call management to new heights.


VDP650 base station – the heart of the system
This SIP DECT base station supports up to ten connected devices, four simultaneous calls, and broadcasts up to 500 feet in all directions. It can be installed almost anywhere, either wall mounted or free standing, and requires no mains power supply, as it supports industry standard Power over Ethernet (PoE).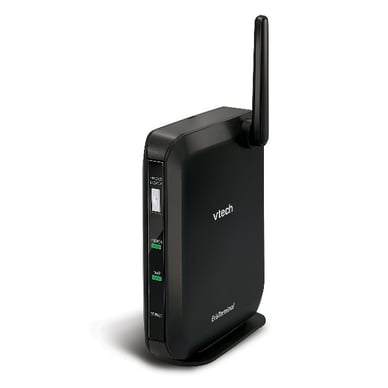 Users benefit from the device's ability to support up to eight SIP account registrations that are either individually assigned or shared among handsets. The base station delivers a rich feature set to the cordless phones it serves, including phonebook import and export, phonebook matching for incoming and outgoing calls, and ten configurable speed dial entries.
Network administrators will also be excited about the network-side features of this device. The VDP650 base station supports a multitude of security features including 802.1x port security, TLS, military grade AES encryption, as well as the OpenVPN suite of VPN standards. Additional network protocol support includes compatibility with both IPv4 and IPv6, STUN for NAT traversal, VLAN support, Layer 3 QoS mechanisms, failover support, and server redundancy. Multiple provisioning tools are furnished, including a web interface for configuration, TFTP compatibility for configuration backup, plus TR-069 and PnP.
Key features that this base station enables for its associated endpoints include:
Support for DECT 6.0 operating at 1.9 GHz frequencies
Use of G.711, G.729, G.726, iLBC and G.722 wideband codecs for more natural sounding conversations
Base phonebook of up to 1,000 entries
Call history of up to 200 entries
Standard system telephony features, including call hold, transfer, forward, mute, redial, and call display
Advanced system telephony features, including N-way network conference, intercom, and call barring
Hold a call on one telephony device and resume it on another
Compatible with BroadSoft's BroadWorks and Asterisk-based systems

VDP651 wireless handset – the mobile workhorse
The VDP651 cordless SIP handset has an intuitive design and is easy to use. This cordless phone fully supports all of the rich features enabled by the VDP650 base station. With the capability of handling up to four lines at a time, this phone allows you to easily manage a high volume of calls wherever you may be. Programmable line keys and a generous talk time make this cordless SIP phone all the more attractive.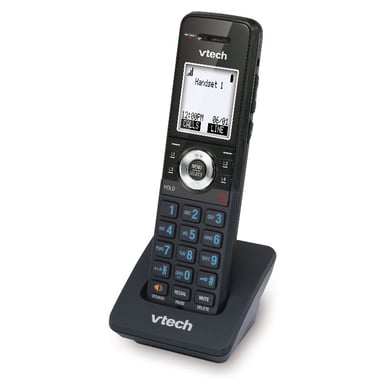 Key features include:
8-inch 90 x 65 pixel mono LCD display
Four programmable LED backlit line keys
HOLD button
Two soft keys
Seven dedicated feature keys
Support for HD voice for both the receiver and full duplex speakerphone
5 mm corded headset jack
Seven days of standby and nine hours of talk time on a full charge
Generous three-year warranty
Supports all the features provided by the VDP650 base station described above

VDP658 wireless deskset – for the mobile desk
Ever wanted to move your office for a day? Have an urgent project where you want to shift into the meeting room next door to create an impromptu office away from the normal daily routine? It's not that simple when you need to call on the telecom guys to move your phone line from one room to the other.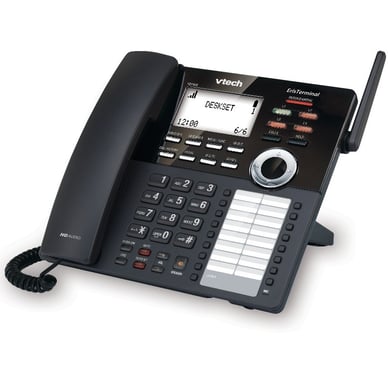 VTech's VDP685 cordless deskset offers a flexible solution for the modern worker with a device that combines the stability and convenience of a desk phone with the flexibility and mobility of a cordless phone. The VDP658 is ideal for an environment where the desk is not a static entity but a dynamic one, moving with you wherever you are working. It boasts an innovative yet somewhat unconventional pairing of cordlessness with a desk phone feel.
The VDP658 phone doesn't need any cabling since it connects directly and cordlessly with the closest available base station. With both a mains power option as well as an internal rechargeable battery with up to seven hours of autonomous talk time, the flexibility this phone offers is quite unique.
Although it is cordless, it still offers all of the expected features of a desk phone, including a large display, multiple dedicated feature keys as well as a large number of speed dial keys. When connected to the VDP650 base station, it delivers all of the advanced features supported by the base station.
Additional key features include:
5-inch 102 x 66 pixel mono LCD display
Message waiting LED lamp
Four programmable LED backlit line keys
HOLD key
17 dedicated feature keys
32 speed dial keys (two pages x 16)
Supports HD voice on both receiver and full duplex speakerphone
5 mm corded headset jack
36 hours of standby and seven hours of talk time in autonomous mode (when not plugged in)
Supports all the features provided by the VDP650 base station described above

VSP605 repeater – when one base station is not enough
As your business grows, your telecommunications system should be able to grow with it, without prohibitive cost implications. This means that your system should be modular and scalable so that additional components can be added to the extant infrastructure to increase its capacity and enhance its capabilities.
An excellent example of this is found in the VSP605 repeater, a device that can easily increase the coverage area of a VDP650 base station. By strategically placing multiple repeaters in various areas around the base station, coverage can be radically increased.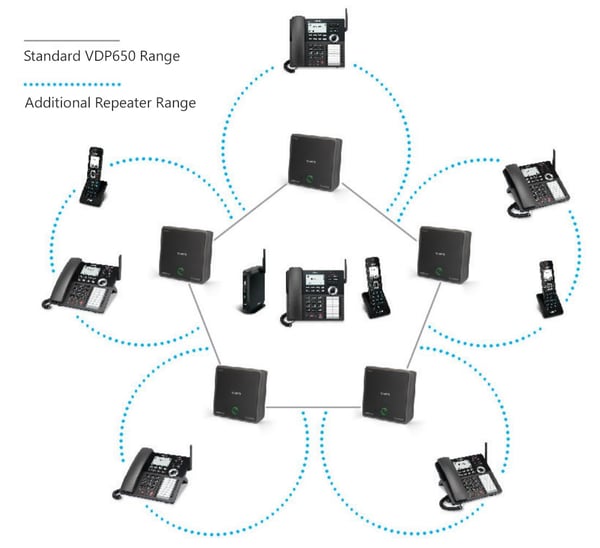 Each repeater has a large range that is somewhat dependent on the intervening obstacles that may exist in your workspace, and can support up to two simultaneous calls. Up to five repeaters can be connected to a single VDP650 base station, allowing for extensive coverage for even the largest indoor workplaces. This, along with the capability of seamless handovers between repeaters and the VDP650 base station, allows high mobility within the workplace, with your staff able to roam freely with the confidence that their calls will not be affected. Network administrators will be happy to hear that Power over Ethernet (PoE) is also supported, and the device has dual Ethernet ports.
The key function of the repeaters is to simply increase the coverage area of the base station to which they are connected. They do not increase the maximum number of connected devices, simultaneous calls, or SIP accounts per base station. However, when reckoning the maximum number of devices a base station can support, up to five repeaters can be added in addition to this maximum.
Specific features include:
A unique antenna design and advances in noise-filtering technology
Range of up to 500 feet
Up to five repeaters per base station
Up to two simultaneous calls per repeater
Seamless roaming and handover capabilities
Power over Ethernet just for power; no network connectivity
Three-year warranty

The solution – putting it all together
By combining these products into a singular cordless telephony solution, one can meet virtually all the needs of an SMB for a mobile workplace. Just plug in the base stations to cover the most important areas, strategically place the repeaters to encompass those hard-to-reach corners of the premises, and register the handsets with the base stations. With the appropriately configured SIP server or IP PBX, each phone will receive its own extension and will be immediately integrated into the existing IP telephony network, seamlessly adding a cordless extension to your voice telecom network.
Because the VTech devices leverage SIP, the existing SIP infrastructure, including dial plan, extension numbers and ranges, as well as connections to the PSTN via a telco or an ITSP, will be accessible to the whole cordless telephony system. An example deployment can be seen in the following diagram.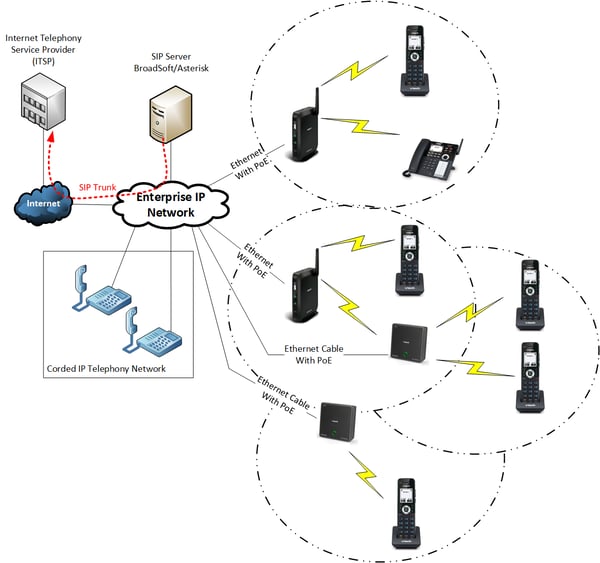 CONCLUSION
VTech's VDP650 cordless SIP-DECT telephony solution will fulfill the needs of any SMB requiring extensive employee mobility within the workplace. This includes mobility for both the staff and the workspace, as furnished by the VDP651 and VDP658 SIP DECT phones, respectively. With a feature-rich base station and an innovative and easy-to-install repeater extending that feature set to the farthest reaches of your workplace, these phones and their supporting base stations make an excellent addition to any voice network needing a flair for mobility.


---
You may also like:
Exclusive interview: What to expect from VTech and Snom post-merger
Sangoma's new DC201 DECT base station and handset package
Yealink's W41P DECT IP Solution
Grandstream's DP760 long-range DECT repeater