Product Review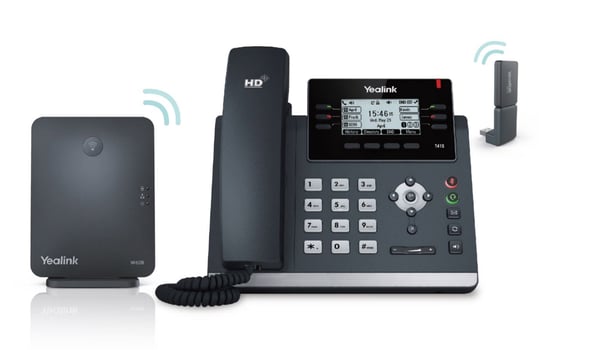 Yealink's W41P IP DECT phone solution brings a new level of flexibility to cordless phones in the workplace. The W41P package includes a W60B DECT base station, a T41S IP desk phone, and a DD10K DECT USB dongle that allows the IP phone to double as a DECT handset, so you get all the rich features and functionalities of VoIP combined with the convenience and mobility of DECT.


DD10K DECT USB dongle
This amazing accessory plugs into the USB port of either the Yealink T41S or T42S IP desk phone and allows it to connect to the W60 base station (described below). The phone connects to the base station without any additional wiring or set-up; it's truly a plug-and-play capability.
This solution successfully integrates DECT and IP technologies. DECT allows you to connect the cordless handsets or the T41S or T42S desk phones to the base station, which in turn provides all the advantages and features of VoIP. This allows you to use the T41S and T42S desk phones without the need for Ethernet cabling – all you need is a power adapter, since the phones can connect to the network through the DECT base station thanks to the DD10K USB dongle.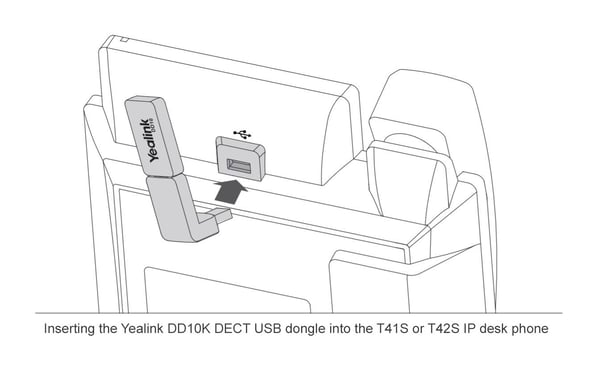 T41S IP Desk Phone
The T41S is a member of Yealink's T4 family of IP phones. It has a 2.7-inch graphic display, 15 memory keys, PoE (power over Ethernet), HD audio, and supports six SIP accounts, in addition to offering a robust range of IP PBX features. For more information, refer to our review of Yealink's T4S models, or see a more complete list of T41S specifications and compare it with the other phones in the T4 series on our Yealink T4 Series IP Phone Specification Comparison Chart.

W60B base station
The W60B base station supports eight handsets (choose from the T41S or T42S IP desk phones, the W56H IP DECT phone, or a combination of these), eight SIP accounts and eight concurrent voice calls, as well as a number of basic and advanced phone features.
The range of this base station can be extended with the RT30 DECT repeater. Up to six repeaters can be connected to each base station in a star formation, or up to two in a cascade formation. Each repeater extends the base station's range by up to 165 feet indoors or almost 1,000 feet outdoors.
For more details, see our product review of the W60B base station.


CONCLUSION
Yealink has successfully integrated IP and DECT technologies into a single endpoint so you can enjoy all the advantages of both technologies simultaneously. The W41P DECT IP Solution contains the components you need (IP phone, dongle and DECT base station) to convert the T41S IP phone into a DECT handset for a rich feature set combined with flexibility and mobility.
---
You may also like:
Cordless SIP phones in the workplace: DECT vs. VoWi-Fi
Grandstream's DP760 long-range DECT repeater
Sangoma's new DC201 DECT base station and handset package