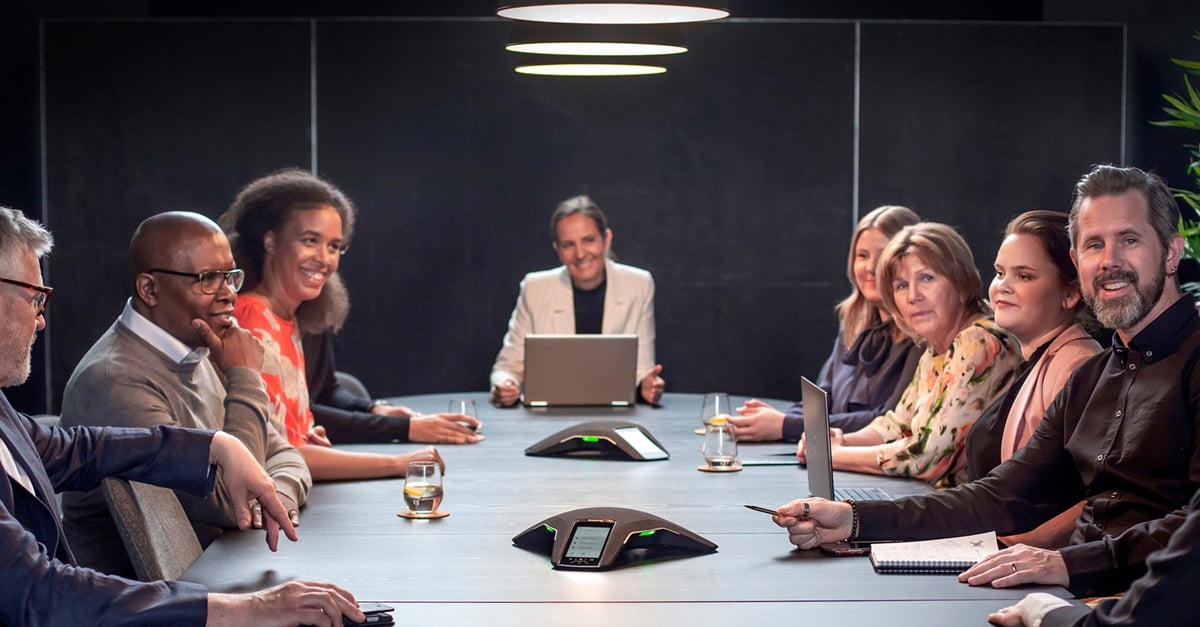 Don't just be good at what you do; look good doing it! That's the philosophy that inspired Konftel when it designed its new 800 SIP conference phone. Chock full of innovative features, this new phone is well designed, exceptionally functional, and looks great – and it has the awards to prove it! In this article we review what we love about this robust conference phone.
A phone for medium to large conference rooms
Konftel's target customer base for this device is organizations that have medium to large conference rooms. The phone offers remarkable flexibility with features, accessories, and configurations that enable it to connect remote sites with anywhere from two to more than 20 local participants. Its expandability and adaptability enable you to configure the device to meet the requirements of your room. Adaptability to a varying number and distribution of participants, as well as the ability to add video to your conferences, are all part of the Konftel 800 SIP conference phone's attractive features.
The innovation
Some of the most compelling aspects of this new device include the easy-to-use interface via the built-in color touch screen. Here, available features and actions are presented with intuitive icons and menus. Volume and mute options are controlled via separate physical buttons.
Konftel's Unite app can be installed on your smartphone and used to control and manage communication via Bluetooth. From the app, you can use One-Touch Conferencing to start a conference with literally the touch of a single button. You can also call contacts or groups of contacts from the personal contact list on the connected smartphone, and likewise, control the conference phone's functions during the meeting.
The Konftel 800 can be used with any number of modern communication and collaboration services, whether in the cloud, on-premise or in hybrid environments. It connects via SIP, USB and Bluetooth LE. The platform enables BYOD (bring your own device) for web and video meetings, where you can also invite participants via regular phone calls. Konftel refers to this as hybrid conferences.
For very large conference rooms, up to three Konftel 800 devices can be daisy-chained together to increase both the audio distribution and pick-up range for maximum conference coverage.
Additional accessories like microphones and cameras can be used to further enhance the conferencing experience. These are described in greater detail below.
The design
The 800 SIP conference phone truly looks great. Beauty may be in the eye of the beholder, but in the case of the Konftel 800, its elegant design has been recognized with a Red Dot Design Award for 2019 which has become an internationally established and recognizable seal of quality for exceptional design.

The award not only evaluates how a product looks, but also its ease of use, its innovation, and the quality and feel of interacting with the device.
The Konftel C50800 hybrid conference kit
To further enchance the conference phone's capability, it can be paired with a Konftel Cam50 Conference camera to add a video component to the conference. The camera can be integrated with the phone using Konftel's One Cable Connection (OCC) Hub, a device that interconnects the two and allows them to function together. In addition to being sold separately, these components are made available as a cost-effective kit known as the Konftel C50800 Hybrid conference kit.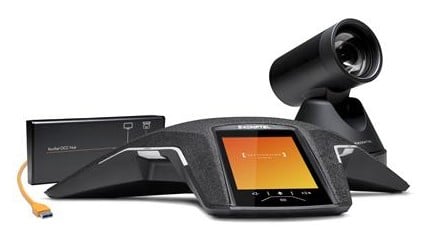 This kit equips you with an all-in-one collaboration solution that delivers outstanding image and audio quality. Regardless of what conferencing system you are using, you can leverage this kit to make your connections. Simply bring your meeting with you on any laptop with a USB port, plug it in and you're ready to communicate. You can easily conference in PSTN calls on the same system, as well.
The kit includes the 800 SIP conference phone, the Cam50 PTZ camera, the OCC Hub, and a PoE injector used to power the conference phone via Power over Ethernet if desired.
Additional accessories
Whether you are deploying a stand-alone conference phone or a conference kit, you can increase the audio pickup range of the device by adding up to two Konftel Smart Microphones. Simply plug them into the conference phone and you're on the air. These mics employ Konftel's patented OmniSound® technology that enables echo cancellation and background noise reduction, delivering a more pleasant-sounding conference experience. They also have convenient independent mute buttons, as well as a pickup range of up to 20 feet to accommodate even the largest of conference rooms.
Key features
Key features of each component of this conferencing suite include:
Konftel 800 SIP conference phone

3" 480x800 pixel color touch screen
2 volume buttons and three mute buttons
Remote control of conference via mobile app
Menu in multiple languages
Supports all SIP call features of connected SIP server
Ethernet, USB and Bluetooth connectivity
Support for G711, G722, G729, Opus, and iLBC codecs
High-quality speakers with frequency range of 80–14000 Hz
3 built-in digital microphones with a pickup range of 20 feet
OmniSound® technology enabled
Daisy-chain up to 3 devices to produce a combined system of 3 speakers and 9 built-in microphones



Konftel Cam50 PTZ camera

Full HD 1080p/60fps
Pan 170° Tilt 60°
12x optical zoom
Field of view 72.5°–6.9°
Supports USB 3.0 and HDMI connectivity



Konftel OCC Hub

Heart of audio and video conferencing
Connects to both conference phone and video camera using USB
Connects to a display device (TV, projector) using HDMI



Konftel Smart Microphone

Pickup range of 20 feet
Built-in echo cancellation and background noise reduction using OmniSound®



Konftel Unite App

Available for Android and Apple iOS phones
Synchronization with both email and calendar apps for conference scheduling
Use local contacts or groups to initiate and manage multi-party calls
View or download the Konftel 800 data sheet.
Conclusion
Chock full of innovative features, the Konftel 800 SIP conference phone is well designed, exceptionally functional, and looks great! When deployed as a kit with the high-quality Cam50 PTZ camera and control system, you have a world-class video conferencing solution that easy to deploy, simple to manage, and financially viable for the vast majority of organizations.


---
You may also like:
Make videoconferencing easy with Konftel C50xx plug-and-play kits
Hybrid conference phones for every kind of personality
Yealink smartens up its IP conference phone with the CP960