Article contributed by Yeastar*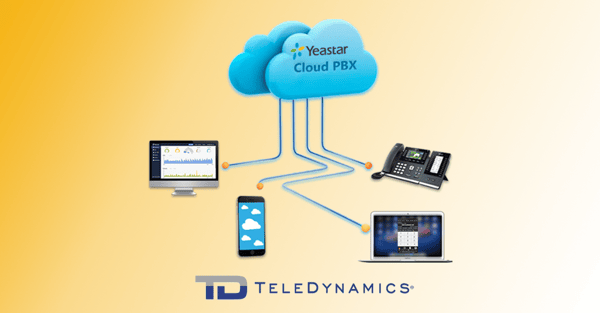 Thought you knew Yeastar's Cloud PBX well? We are sure there are some useful features you have yet to discover. Below are 10 sweet features of the Yeastar Cloud PBX that might not be on your radar. Learn more about Yeastar's Cloud PBX (and stay for lunch) next July 24 in Austin, Texas. Dealers who attend are eligible for three months of Free Yeastar Cloud PBX! Click here to register.
Unified Messaging
Want to be more responsive to customer requests, whether through email, voicemail or fax? This is a cinch with our Cloud PBX. You can receive

voicemail

and

fax

in your email inbox instantly, staying on top of your messages without logging into different portals.


User Permission
It can be cumbersome for IT to personalize the extensions of each individual user. Now with user permission, the IT administrator enjoys the highest privileges, while extension users can be granted different levels of permission to program their own settings.


Auto Provisioning
When you have tons of IP phones to set up from the scratch, the workload could literally drive you crazy. User information, local phone book, firmware and more all need to be configured. Why not go the easy way? Use auto provisioning to do the work in bulk.


Call Queues
Businesses with a lot of staff need a way to direct incoming calls to different destinations such as sales, customer service, etc. and make sure the callers are properly prompted. Call queues are your best choice. Not only will incoming calls be distributed automatically, but callers can also be led to voicemail or get a busy tone instead of being placed on hold.


SIP Forking
SIP forking is a godsend for anyone using multiple endpoints to communicate. You can't be at your desk 24/7. So, just register one extension number to your different SIP endpoints, like IP phones, desktop and mobile softphones. Then a single call can ring them all at the same time.


AutoCLIP
"Hello, I talked to your support guy a moment ago. Could you help me find him?" Many receptionists are stumped by such questions. Set up AutoCLIP routes in your Cloud PBX, then returned calls will be routed directly to the original caller's extension.


DISA (Direct Inward System Access)
Have you ever wanted to make calls through the corporate phone lines when away from the office? We have addressed your need with this nifty shortcut. DISA can easily enable outside users to use the PBX service just like a system extension. You just need to dial a DISA number and enter an access code to complete the call.


Time Conditions
The time conditions feature is used to control call flow based on time and date. You can route business calls to different destinations depending on the time, such as working hours, holidays or lunch time. The destinations can be voicemail, queues, IVR, inbound routes, or others.


One-Touch Record
Recording important calls is easy. During a call, the user can dial the feature code of one-touch record to start recording the call, then dial the feature code again to stop the recording.


IVR (Interactive Voice Response)
Customers call in for various purposes. To save time and energy for the staff and provide a smooth customer experience, modern organizations tend to use personalized prompts to route incoming calls to their destinations. Also called auto attendant, IVR supports DTMF

tone prompts like, "for sales, press 1; for support, press 2…" Simple and effective.
Put these features to good use on your Cloud PBX. Ask your TeleDynamics rep about getting set up with a free trial of Yeastar's Cloud PBX. Better yet, if you can be in Austin, Texas on July 24, 2018, join our Lunch and Learn for a live demo and discover how Yeastar's Xcelebrate Partner Program can help you with your business. Click here to save your spot (it's free).


Browse TeleDynamics' website for Yeastar products.
*This article is an adaptation from a piece originally published on Yeastar's blog.


---
You may also like:
Cloud and UC: Is your telephone system on board?
How much would your business benefit from cloud-based UC?
Think voicemail is obsolete? Think again.