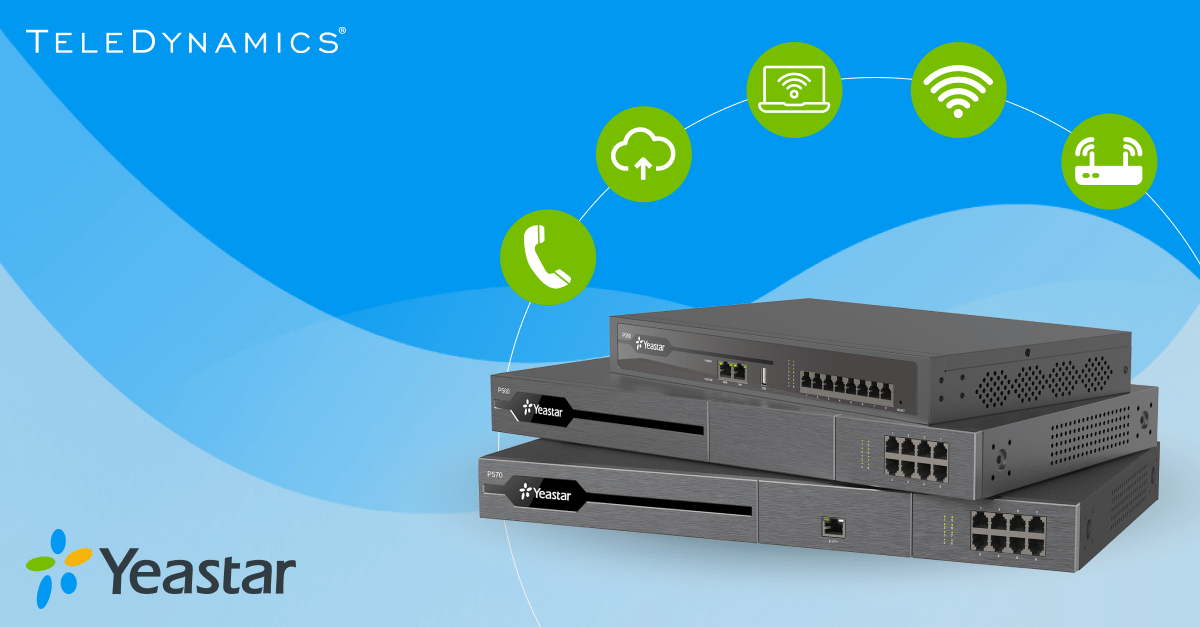 About 20 years ago, a revolution took place in the telecom industry. Time-division multiplexing (TDM), the technology that digital telephony had depended upon for decades, began to lose dominance in favor of a newer, more flexible technology: Voice over Internet Protocol (VoIP).
However, despite the extensive proliferation of VoIP today, many businesses in the United States still use TDM-based systems and services. Although these systems work well to provide basic functionality, the companies using them are missing out on the many benefits that VoIP offers.
In this article, we examine how Yeastar's VoIP offerings show these businesses that the benefits of moving from TDM to VoIP far outweigh any initial costs or disruptions. For further Yeastar-related information concerning TDM-to-IP phone system migration, look at Yeastar's TDM Upgrade Accelerate Kit.
What is TDM?

Time-division multiplexing is a technology that splits a communications channel into time slots and assigns each slot to a different signal, allowing multiple signals to share the same channel. TDM was the technology leveraged by private branch exchanges (PBXs) manufactured from the 1970s to the 1990s. These primarily included:
T1 lines that carry 23 voice conversations plus a 24th channel used to transmit control information for synchronization and other operational mechanisms

Integrated Services Digital Network (ISDN) lines come in two "flavors:" basic rate interface (BRI) with two voice channels and primary rate interface (PRI) with 23 voice channels and one control channel
Other technologies leverage TDM, including fiber optic backbones based on SONET and SDH and cellular applications such as GSM. However, these methods go beyond how TDM is used within enterprise telephony systems.
TDM limitations
Compared with VoIP, TDM-based PBXs and telephony services are limited in functionality. Some of these limitations are serious and can hinder a business from growing and remaining competitive. These limitations include the following:
Inflexibility:

TDM systems are limited to delivering voice quality corresponding to the standard 64 Kbps allotted per voice channel. This limitation causes the characteristic tinny sound of a voice over the phone.

Lack of integration capabilities:

As a separate communications technology, TDM cannot be readily integrated with other network services to deliver collaboration, videoconferencing, webinar applications, and other related capabilities that modern businesses require.

Fixed location:

To use TDM-based voice services, you must be physically within the building where the PBX and related telco circuits are located. User mobility is unachievable with TDM services.

Obsolescence:

TDM-based PBXs are quickly reaching their end of life, with little to no technical support available. Manufacturers are not making new TDM PBXs or replacement parts; only used and refurbished parts are available.

Telco offering limitations:

Telcos are starting to phase out TDM-based services such as T1 and ISDN lines. Although no official dates have been set in the U.S.,

British Telecom has announced

that they will switch off all PSTN and ISDN lines by the end of 2025.

Cost:

TDM-based services and equipment are much more expensive to manage, repair and maintain than their modern VoIP counterparts.
Many organizations are entirely unaware of the limitations that TDM systems impose on their businesses simply because they are still traditionally using telephony.
They don't yet see the full potential of powerful capabilities such as workforce mobility, integration with other business applications or the financial benefits of VoIP and unified communications (UC).
Moving from TDM to VoIP can help organizations recognize that they were held back from reaching their full potential and maximum competitiveness in their fields.
Yeastar's TDM upgrade strategy
If thinking about upgrading or replacing your TDM PBX gives you a headache, let Yeastar put you at ease. Yeastar makes replacing your TDM system easy with two options: going all-IP immediately or doing a phased upgrade.
An immediate replacement of your whole TDM telephony system ensures a highly scalable and flexible solution. This instantly delivers workforce mobility, complex call routing, and more connectivity options, all within a simplified and converged communications infrastructure.
This choice is ideal for businesses with the finances to support such a change, as they will immediately begin enjoying the benefits delivered by VoIP. Although it does incur a higher initial cost, this option is typically cheaper in the long run.
Alternatively, a company heavily invested in its current TDM infrastructure may prefer a gradual transition to prevent an abrupt and expensive revamp. Through an incremental approach, an organization can begin with a minor change that imposes less initial financial burden and then complete the transition at its own pace.
This also provides the opportunity to further explore IP telephony on a limited scale before fully embracing and committing to purchasing the technology.
Yeastar provides a range of migration strategies and versatile implementation choices, including on-site and cloud-based solutions, enabling you to design an ideal solution tailored to your unique requirements, objectives and available resources.
Yeastar has made a TDM Upgrade Accelerate Kit available to assist with your migration process, which you can download for free here.
Further exploring Yeastar's solutions
Yeastar's P-Series IP PBX systems deliver advanced UC solutions via three major implementation scenarios, each of which can be implemented through an immediate deployment or gradual upgrade:
Cloud PBX:

Yeastar's SaaS option

delivers a subscription-based telephony service that eliminates the hassle of maintaining any on-premises or even cloud-based servers.

Appliance PBX:

This is a

physical IP PBX appliance

deployed on the enterprise's premises.

Software PBX:

The

software edition of the IP PBX

can be deployed on a physical server or in a virtual environment, either on-premises or on a commercially available cloud platform.
Conclusion
TDM systems are long past their prime. Competing successfully in the modern business world requires organizations to seek out every advantage, including the many provided by modern VoIP telephony systems.
Yeastar's extensive base of over 450,000 worldwide customers has made it a leader in IP-based telephony services. This has also allowed the company to become highly experienced in the accelerated migration from TDM to IP-based voice services.
Yeastar's TDM-to-IP migration kit includes helpful information and resources to facilitate your migration. You can download it for free here.
---
You may also like:
Yeastar UCaaS turnkey solutions
Yeastar is once again at the top in customer satisfaction
Yeastar P-series cloud edition PBX system