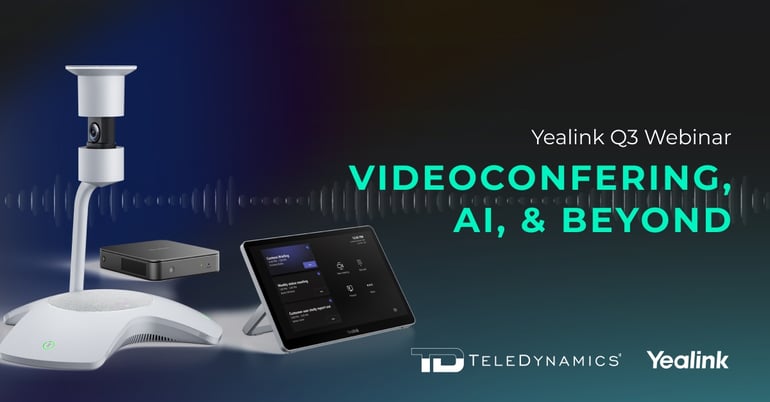 Yealink presented a channel webinar last month focusing on market trends and some of the company's most noteworthy videoconferencing technologies and products. In this article, we provide a summary of topics discussed for those who may have missed it.
Rising importance of videoconferencing
Information from Frost & Sullivan shows that the market for videoconferencing devices continues to grow even well after the relaxation of most pandemic restrictions. The report also indicates that a large percentage of businesses are approaching videoconferencing as a replacement for other communications channels, such as email and instant messaging.
Beyond videoconferencing in general, videoconferencing within the framework of meeting rooms is being considerably reimagined. Meeting room trends include contactless experiences, with voice activation and biometrics playing a large role. Also important is the extensive use of AI features, including intelligent auto-framing, background noise suppression, people counting and tracking, and AI-assisted meeting controls and coordination.
The Internet of Things (IoT) is also an important companion technology that further enhances meeting rooms. IoT features may include smart indicators that measure and report air quality, humidity, and temperature while using seat and occupancy sensors to automatically control lighting and environmental systems.
Yealink's market leadership
The webinar next explored Yealink's position in the industry, affirming the company's average annual growth rate of over 33% between 2014 and 2022. As of 2022, Yealink is ranked number one in the global IP phone market and in the top five for videoconferencing systems. This growth is sustained by over 200 distributors of Yealink devices and services in over 140 countries, collectively serving more than 500,000 companies worldwide.
Yealink's innovative offerings
Among the most noteworthy presentations during the seminar were ones showcasing some of Yealink's newest and most innovative devices in its video solutions portfolio. These included:
A wide range of video solutions for meeting rooms ranging in capacity from a few people all the way up to over 40.

Systems supporting Windows and Android as well as USB devices that can be plugged into any computer for use with any platform.

Yealink MVC series videoconferencing systems sporting the MCore and the MTouch II, devices that can be mixed and matched with cameras, video/audio bars, speakerphones, and a whole series of other accessories.

Multiple camera solutions using the AV hub, which can support up to nine cameras to provide a unique perspective to a meeting.

AI features such as auto framing, speaker tracking, and presenter tracking, which are just some of the advanced capabilities of many of Yealink's VC products.
Yealink's third-generation MVC products
Yealink went on to describe some of its newest devices, which fall within the company's third-generation MVC product packages. Arguably the most intriguing device presented was the SmartVision 60, a 360° camera mounted on a speakerphone that can be placed in the center of a room. With features such as multi-stream people feed, face recognition, voice recognition, and participant identification, this camera can act as an AI director of your meeting, ensuring that everyone speaking can be clearly seen, heard, and understood—all without human intervention. Used in conjunction with Microsoft Teams, this device can deliver a comfortable and secure videoconferencing and collaboration experience. For more details about the SmartVision 60 or to place an order, contact your TeleDynamics rep.
MeetingBoard overview
Another noteworthy product line that was showcased was the MeetingBoard series of all-in-one, large-screen touchable displays. These devices have all the hardware necessary to turn any large conference room into a videoconferencing hub. With built-in speakers, microphones, a camera, and their own operating system, they deliver a deep teleconferencing experience for everyone in the meeting, regardless of location.
The large touchable displays allow them to be used as whiteboards and presentation devices for both local and remote participants. Available in a 65" version and a huge 86" model, they are literally a plug-and-play option requiring no other device to operate and simply need to be connected to power and the network.
Live demonstration
The webinar ended with a helpful live demonstration showing the use of the MVC940 room videoconferencing kit with multiple cameras. Several impressive features, such as presenter tracking, multiple camera views, auto-framing, multi-focus, and noise cancellation were demonstrated, helping viewers more clearly understand what all these often strange-sounding features actually do.
Room Configurator tool
Finally, there was a short demonstration of Yealink's online Room Configurator tool. This is an online tool that you can use to find the Yealink VC solution that best fits your needs. You can provide information such as the desired operating system, room size, number of participants, and other preferences, and the system will suggest the best solution and relevant accessories.
Conclusion
Yealink's webinar for Q3 of 2023 provided a wealth of information about the company's market position, products, and technologies. This included an overview of Yealink as a company, as well as a look at key products such as the MVC series, SmartVision 60, and MeetingBoard series. The webinar helped showcase how Yealink can help organizations of all kinds remain on the cutting edge of videoconferencing technology.


---
You may also like:
Market demand for Yealink videoconferencing
Yealink MeetingBoard series: envisioning the ideal collaboration endpoint
Discover Yealink's feature-rich enterprise meeting solutions