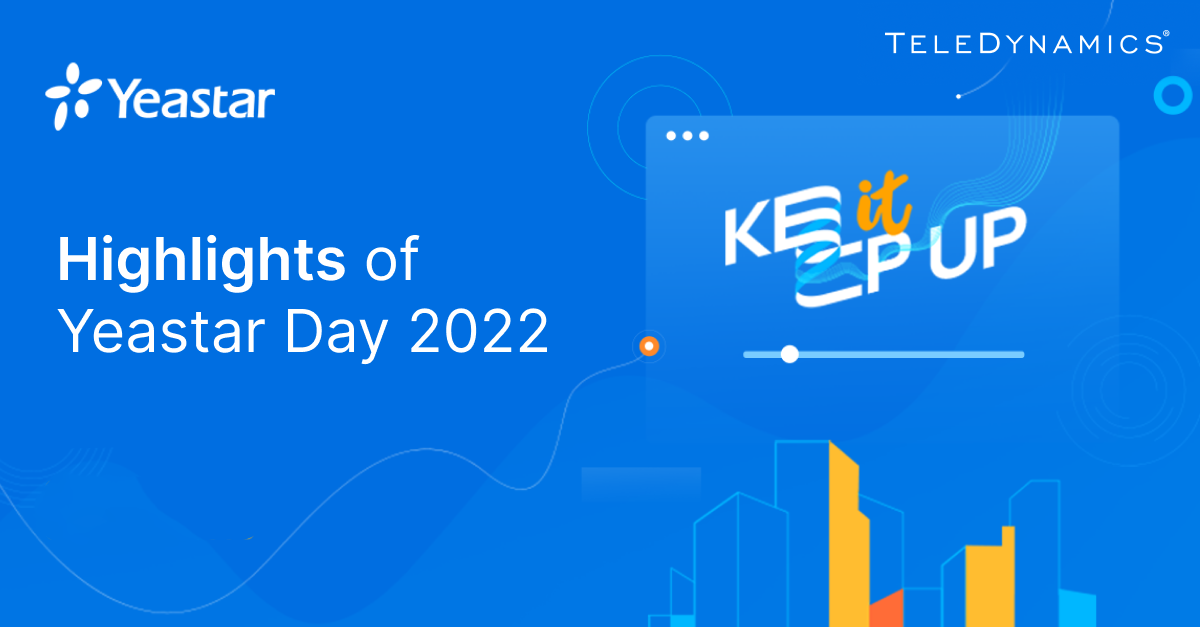 In late October 2022, Yeastar hosted an online event called Yeastar Day 2022 Virtual, where participants had the opportunity to learn about product announcements, share success stories, and participate in interactive networking. With over 1100 attendees, it was Yeastar's largest-ever virtual event.
For those of you that may have missed it, here are some of the highlights of this successful event.
P-Series PBX System highlights
One of Yeastar's signature products is its P-Series VoIP PBX system, with a range of models providing various levels of service for businesses of different sizes. Indeed, Yeastar recently announced an update to the P-Series PBX system features and functions, and these were showcased at this year's Yeastar Day.
Yeastar Day's Product Innovation Session consisted of a complete walk-through and demonstration of the P-Series. Some of the new features highlighted include:
Active directory integration – The P-Series PBX can be easily integrated into an enterprise's active directory, enabling things like:
Synchronization of users, organizational units, Microsoft 365 groups, and Azure active directory with the P-Series PBX system
Single sign-on (SSO) allowing employees to use their Microsoft account to log in to their Linkus UC clients as well as to the P-Series management portal
Users can expect future upgrades to deliver a deeper integration with Microsoft 365, including features involving videoconferencing, calendar, contacts, and extension status, as well as integration with Google Workspace.
Call flip and call switch – This feature allows users to transfer live calls from one personal device to another, such as a desk phone to a smartphone, without interrupting the conversation, an especially useful capability for those who work both in the office and on the go.
Future Yeastar UC solutions
Yeastar has made a name for itself in the delivery of server-based and cloud-based UC solutions. But the company is not resting on its past successes. It continues to develop innovative and useful features for their UC solutions and platforms. Some of the most significant upcoming features will include:
Unified messaging – Soon you will be able to get all your messages in all their forms via a single platform. Email, text, voicemail, social media messages, and faxes can be sent and received from your single Linkus UC client. These updates in the P-Series capabilities will include text messaging over SIP trunks, as well as WhatsApp, Facebook, and other social media platform integrations.
Deep helpdesk integration – Helpdesk agent aids such as click-to-call, call pop-up, call journal, and contact synchronization are just some of the features that will be delivered with helpdesk integrations. In addition, you'll be able to automatically turn incoming calls into support tickets, resulting in more efficient and seamless ticket management. Integrations will initially support Zendesk and Zoho, but more are expected in the future.
Multisite support features – The mobile workforce has been fully supported by Yeastar, especially with the P-Series cloud edition PBX. However, with its appliance as well as its software edition, additional multisite features are necessary to ensure the consistency and integrity of the system across all central and branch sites that host a P-series PBX. By registering branch phone systems directly to the headquarters PBX in a multi-site arrangement, data can be synchronized automatically, allowing direct-dial internal calls and enabling a normalized dial plan across the organization.
Hospitality sector features – Future versions of the P-Series PBXs will allow easy integration with third-party hotel management and property management systems without the need for cumbersome and often expensive middleware. Daily operations will be streamlined, and high-quality guestroom services can be delivered, with Oracle OPERA and Fidelio being the first platforms to be supported.
Additional updates
Yeastar Workplace
Yeastar also announced the addition of two systems to Yeastar Workplace: The Desk Booking System and the Visitor Management System. These, combined with the Meeting Room Booking System, make Yeastar Workplace a complete solution for streamlining room allocation, facilitating in-person collaboration, and optimizing space utilization for modern offices and co-working spaces.
The Meeting Room Booking System makes it easy to locate and reserve available rooms, as well as add meeting participants and notify them via email. The Desk Booking System is designed for the management and use of shared and hybrid workspaces. The Visitor Management System optimizes the guest experience and secures your workplace by making it easy to track, welcome, and process different types of visitors entering your premises, such as job candidates, customers, partners and others.
Yeastar success stories
If you've missed taking part in this unprecedented Yeastar event, you can always take a look at some of the most significant sessions at the Yeastar Day 2022 site. There you'll also see case studies and examples of success stories, showcasing how Yeastar can become part of the success of your business.


---
You may also like:
Yeastar UCaaS Turnkey solutions
Yeastar's P-series cloud edition PBX system
New features in Yeastar's P-series IP PBX system
Yeastar's new P-Series software edition