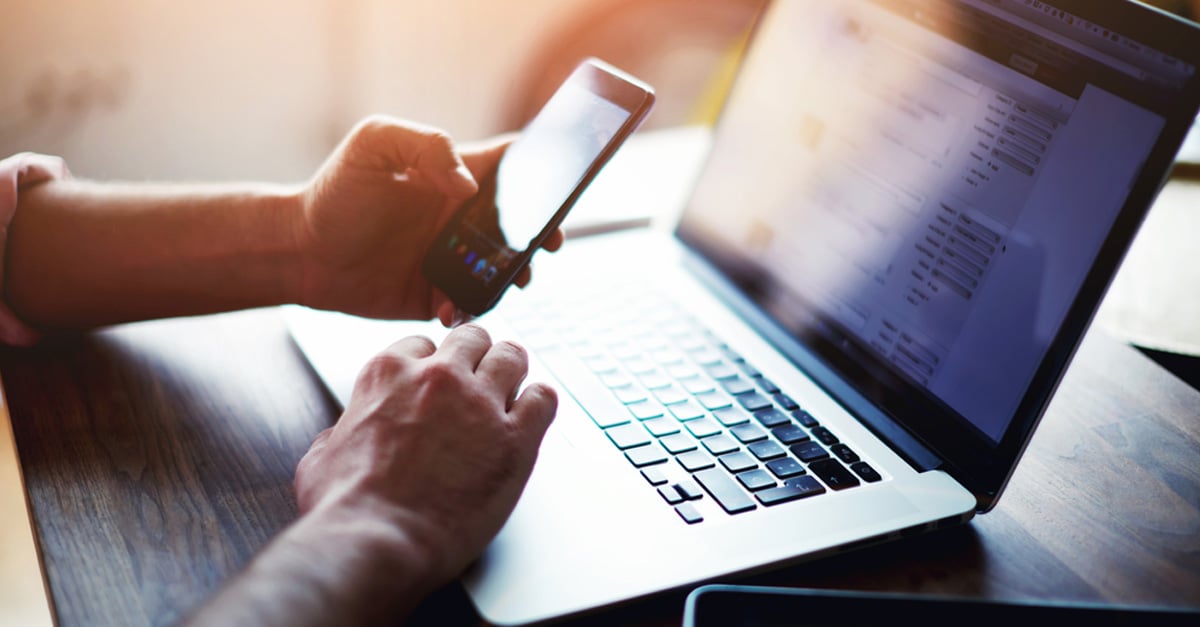 Now that working from home and dispersed workforces have become the new norm, connecting employees' or company-issued smartphones to the enterprise IP PBX offers several advantages, including the ability to reach employees via their direct inward dial (DID) landline numbers, even though they are physically off-premise.
The technology that enables this is called VoIP over cellular data networks. In this article we detail how to enable it, the advantages of doing so and some potential issues to watch out for.


Softphones on smartphones
Modern smartphones are essentially mini-computers, which can run software that turns them into IP phones. Often called a softphone, this softphone runs in parallel to, and independently of, the voice services that a cellular provider offers. It leverages the data connection of the smartphone to establish a connection to a VoIP server that is either set up in your enterprise or on the cloud, and obtains a new telephone number that is independent of the phone number provisioned by the cellular provider. This implementation is what is known as an over-the-top (OTT) voice application.
In order to see how this can be beneficial to an enterprise IP PBX implementation, let's first take a look at the various types of connectivity that a smartphone can have.


Smartphone connectivity scenarios
The modern smartphone has multiple wireless connections to networks, and each one is used for a different purpose, and in different ways.
Voice – This is the main connection that is provided to all cell phones by mobile telephony providers. This voice connection assigns a PSTN number to the cell phone that can be reached from any telephone in the world. Technologies from 2G to 5G use different methods to implement this, but in all cases, this is considered a separate service from all other services provided over the cellular network.
Data over cellular – This connection allows the smartphone to connect to the internet over the publicly available cellular telephony network. Various technologies have been used to implement this including GPRS, UMTS, LTE, and 5G. This, too, is a paid service.
Data over Wi-Fi – This service allows the smartphone to connect to the internet via a local Wi-Fi access point. This usage is typically free and unlimited, depending on who is providing the service.
Bluetooth, NFC, infrared, and others – These are other technologies that typically allow connections to peripheral devices such as cordless headsets or speakers that are within a small distance from the smartphone.

Distributed telephone system enablement
The distributed telephone system (where endpoints are distributed geographically and not all on the enterprise premises) takes advantage of the two types of data connections that the smartphone can establish with the internet: cellular data and Wi-Fi. Using these connections, the phone can register its softphone app to an available IP PBX, obtain a number, and become integrated within the numbering plan of the enterprise telephony network.
This naturally means there must be an IP PBX (also referred to as a SIP server or a VoIP server) somewhere on the internet that has been configured for this softphone to register to. This IP PBX must also provision a way for that registered softphone to both reach the PSTN and be reached via the PSTN.
The following diagram illustrates this scenario.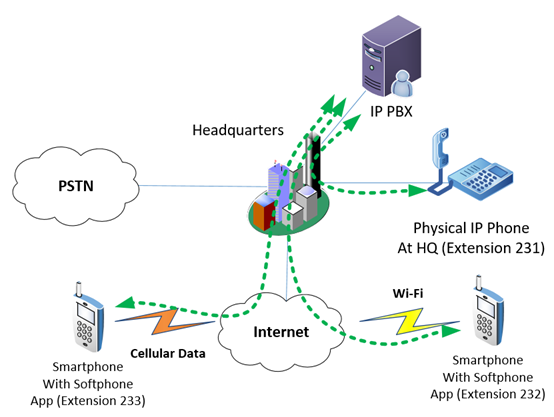 Note the following:
The IP PBX is a device found on the enterprise premises and is accessible via the internet.
All endpoints, whether onsite or offsite, register to the IP PBX using specific credentials.
The IP PBX assigns an internal three-digit number to each endpoint.
Calls between devices can take place using three-digit dialing.
Calls from any device to the PSTN are routed via the PSTN connection that is located at the enterprise.
Incoming calls from the PSTN can be routed to any device (on- or off-premises) with an internal three-digit extension.

Advantages of a distributed telephone system
The most important notion to appreciate from the above is the fact that smartphones registered to the IP PBX will behave exactly the same as the on-premises physical telephones, no matter where they are in the world, as long as they are connected to a cellular or Wi-Fi data connection. This means that:
Jill can call her colleague Jack from her IP desk phone by dialing 232.
Jack may be anywhere in the world, and will receive that call on his mobile phone as long as he has internet access.
There are no per-minute PSTN charges associated with the call.
This call is considered to be internal to the enterprise network.
Such a scenario allows for communication with the PSTN that is local to the enterprise:
Jack can be reached using the direct inward dial (DID) landline number that corresponds to his softphone app, such as 850-555-0232.
Such a call will enter the enterprise network via the PSTN connection and be routed over the internet to wherever Jack may be at that time.
Similarly, if Jack is abroad and wants to call a client back home, he can (if connected to the internet) dial 9 on the softphone app to get a local outside line (that is, local to the PSTN connection of the enterprise), just like he would from his on-premises desk phone, and then dial the local number of his client. The call will be routed out of the PSTN connection at the enterprise, and will be charged accordingly.
Some additional advantages include:
A consolidated call detail record (CDR) of all incoming and outgoing calls for both accounting and billing purposes.
Softphones can share the same extension number as the physical desk phone used by personnel. This means staff can be reached at a single number regardless of where they are.
Even if your cell phone number changes, you can still maintain the same internal extension on the softphone.

Potential problems
As with most innovative technologies, some potential problems may arise. However, if dealt with correctly, they can be easily mitigated. These include:
Mobile telephony providers – Some cell phone companies may block certain types of traffic from their data connection, such as voice traffic. This can sometimes be done intentionally to force subscribers to use the cellular company's voice service, or it may be due to a misconfiguration. Before implementing any large scale deployment, make sure to check the fine print of your staff's cellular data plans, do some experimentation, and talk openly with your provider and let them know what you would like to deploy, to ensure that it will function correctly.
Security – Especially when employed over a third party's Wi-Fi network, security is an important issue. Make sure all precautions are taken to ensure VoIP security for mobile users.
Ease of implementation – When deploying an IP PBX within an enterprise, it requires a specialized skill set to make that IP PBX accessible over the internet in a secure way. One alternative to the on-site IP PBX is a cloud-based IP PBX to which all users, including desk phones within the enterprise headquarters, can register. With a cloud-based IP PBX, security and connectivity are taken care of by the cloud PBX provider.
Data connectivity issues – In order to reach someone on their smartphone using an internal three-digit number, the smartphone must be on, must be connected to the internet, and the softphone app must be running. Connectivity cannot always be assured, especially in rural areas, or when going abroad. Before your staff does any travelling, it may be worth investigating the data connection options of the destination, including the interoperability of your mobile phone provider with those at the destination.

Conclusion
The distributed telephone model is particularly useful for dispersed or mobile workforces. The aspect of smartphones that makes this possible is their almost uninterrupted connectivity to the internet due to the almost ubiquitous nature of cellular data services. This allows for the implementation of a distributed business telephone system, which, in turn, enables more streamlined and simple communication with your staff, personnel, clients, and partners.
---
You may also like:
Why you should connect your VoIP phone system to a mobile network
5G and its applications for UC
Move into the future with Wi-Fi voice