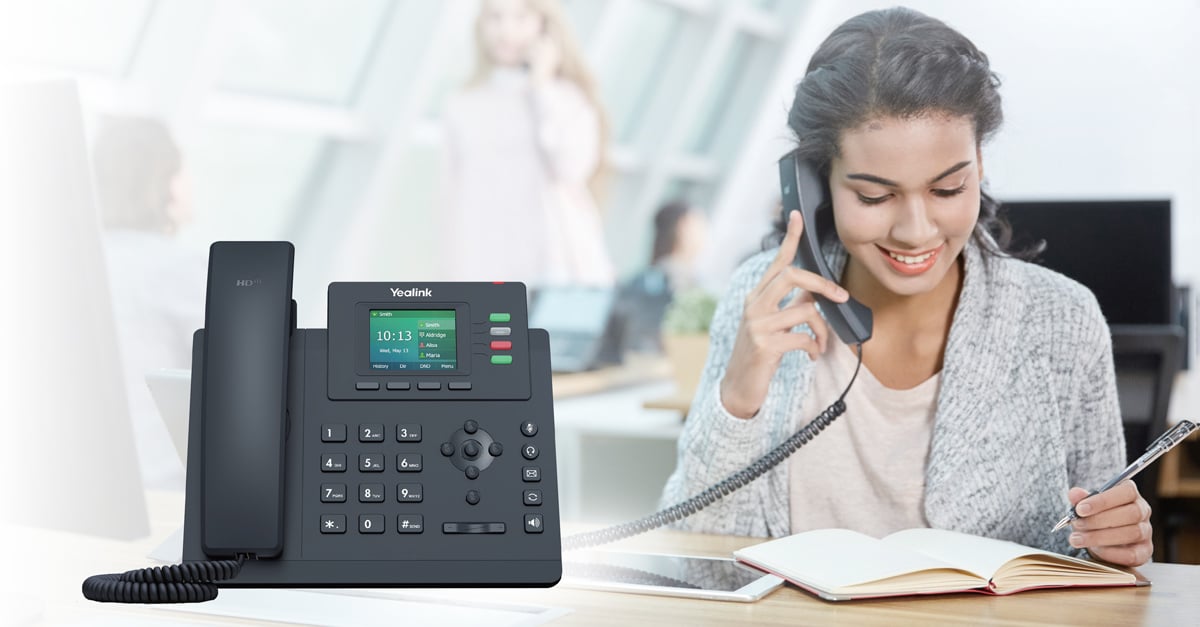 With its new T3 series IP phones, Yealink continues its tradition of providing advanced yet cost-effective enterprise telephony solutions to businesses of all sizes. Packed with a plethora of features, these entry-level phones can satisfy both the voice network administrator and the budget coordinator of most organizations. Read on to find out more about what they have to offer.


Cost-effective
The most expensive component of investing in a new or upgraded enterprise telephone network is usually the cost of the telephone devices that sit on the employees' desks, especially for larger implementations with hundreds of users or more. For this reason, the ideal choice of IP phones would be those that pack as many high-tech and reliable features as possible, for the most reasonable price on the market. And Yealink does just that with its T3 series phones!
The attractive price/performance ratio of Yealink equipment is one of the reasons this manufacturer is among the highest-rated IP telephone vendors on the market, as reflected in its leadership in SIP phone market share for the third consecutive year, according to the latest Global Enterprise Communications Platforms and Endpoints Market report by Frost and Sullivan.

Watch the video
T3 series IP phones
All the phones in the T3 series use Yealink's unified firmware for easy maintenance and upgrading. This advanced firmware, combined with the powerful CPU that equips each of these phones, requires a shorter boot time and delivers almost instantaneous response times to button presses and calling features. All phones support Yealink's EHS36 wireless headset adapter, which also allows for phone control through the connected headset. All the most popular and advanced narrow-band and wideband codecs are also supported, including G.711, G.729, G.722, iLBC, and Opus. In addition, all phones use the industry-standard SIP protocol so they are compatible with virtually all third-party IP PBXs and with Yealink's Device Management Platform.
The T3 series is comprised of three models, two of which are currently offered in the United States and included in this review.
The T31 model has a 2.3" graphical LCD screen featuring a backlight with adjustable brightness. In addition, it supports two lines and has two line keys as well as two memory (speed dial) keys. The T31P is PoE-compatible and the T31G is powered by PoE and delivers GigabitEthernet (1000Mbps) speeds to connected workstations. Follow these hyperlinks to view or download the datasheets: T31P – T31G.
The T33 model has two versions: T33P and T33G. Both support PoE and the T33G supplies GigabitEthernet speeds to connected workstations. This model offers a larger 2.4" color screen with a higher resolution and adjustable brightness, up to four lines, four line keys, and 12 speed dial slots (4 pages of 3 keys). Click here to view the T33G datasheet.


Key features
The following is a more detailed list of some of the key features of this series of phones:
Features common to all phones:
SIP-based desk phone
Support for wireless headset with Yealink's EHS35 wireless headset adapter
Up to 5-way conference calling
722 and Opus wideband codecs
711 (A/µ), G.729AB, G.726, iLBC, G.723.1 narrowband codecs
Wall mounting
Security slot
2-angle adjustable foot stand
T31 features
2-line phone
3" graphical LCD display (132 x 16 pixels) with adjustable backlight brightness
2 line keys
2 memory keys
PoE (T31P and T31G)
GigabitEthernet port for workstation (T31G)
T33 features
4-line phone
4" color LCD display (320 x 240 pixels) with adjustable backlight brightness
4line keys
12 memory slots (4 pages of 3 keys)
PoE
GigabitEthernet port for workstation (T33G)
Check out Yealink's specification comparison chart for more details about the available features.

Conclusion
The T3 series of IP desk phones is a low-risk, low-cost, high-tech solution to any enterprise wishing to modernize and enhance their telephony network. With phones that are both user-friendly and budget-friendly, partnering with Yealink for your telephony needs makes good business sense.


---
You may also like:
Yealink ranks No. 1 in SIP phone market share for 3rd year in a row
Updates to Yealink's T5 smart IP phones