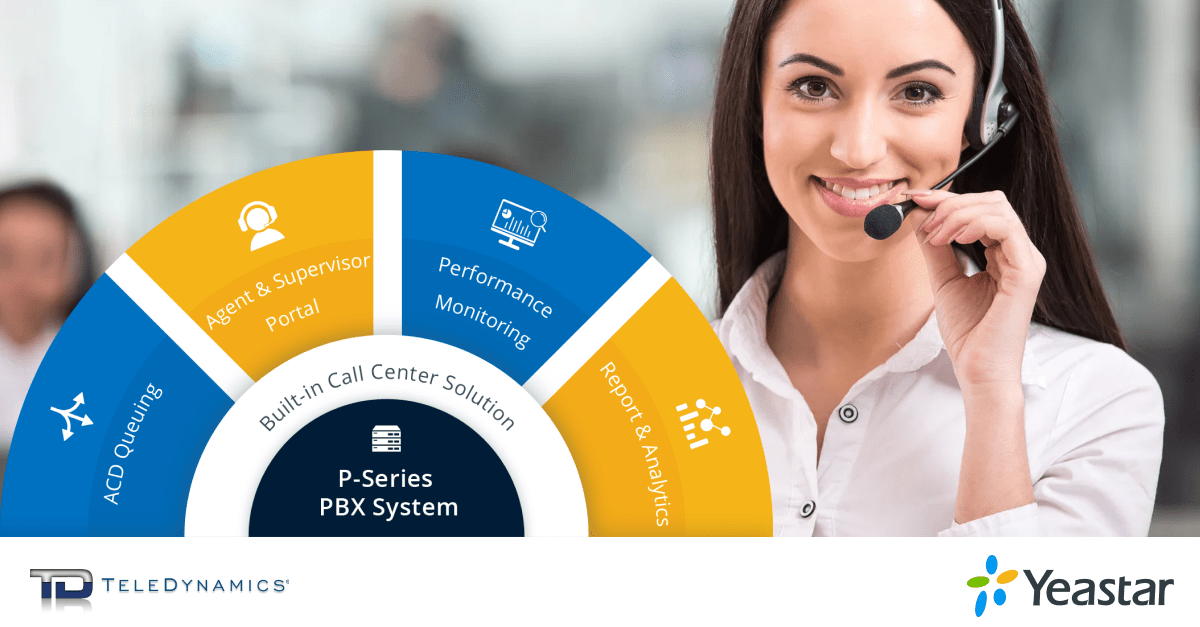 Enterprise-grade call center capabilities are important for small and medium-sized businesses, which must project corporate-level professionalism to their callers just as much as large firms. For this reason, Yeastar has incorporated a rich set of call center functionalities within its best-selling P-Series IP PBXs. Keep reading to learn more about these capabilities and how they can help any business reach new customer service heights.
Yeastar's flagship IP PBX series
We've been raving about Yeastar's P-Series IP PBXs for a while now, and we've expanded our coverage by further describing the software edition, cloud edition and appliance edition. But did you know these PBXs tightly integrate call center capabilities into single, integrated systems? By purchasing the appropriate subscription, you can enable a host of advanced call center features on any P-Series PBX you're using without needing additional hardware or software.
Call center services and features
Advanced, feature-rich call center services are available to all small and medium-sized businesses that leverage any one of Yeastar's P-Series IP PBXs. Some of the most important of these features are described below.
Automated call distribution (ACD) and queuing
These features let you connect customers with the right agents at the right time. Your team can take advantage of advanced automatic routing, with six pre-defined ACD queueing strategies, customizable interactive voice response (IVR) options and more features that drive faster call resolution:
Time-based routing

Caller choice-based routing using IVR

Configurable call patterns, including:

Simultaneous call distribution (ring all)

Fixed-order call distribution (linear)

Rotary call distribution (circular)

Workload-based call distribution

Random call distribution
Agent and supervisor portal
The portal delivers all the tools your agents and supervisors need in a single interface. The dynamic, streamlined Queue Panel makes it easy to monitor caller queue traffic, check and modify agent status, and quickly conduct call operations like call transfer, call monitor, call park, and more, all within a drag-and-drop interface or with a simple click.
This portal offers:
Drag-and-drop call management

Visualized active and waiting calls

A complete view of agent statuses

Real-time queue metrics display

Role-based feature access control
Real-time and historical performance monitoring
View the current system status with multiple metrics and key performance indicators from the central call center Wallboard. It displays data in real-time along with a historical view updated daily, weekly or monthly intervals for in-depth call center monitoring, management and optimization.
Reporting and analytics
Use up to eight vital call center reports to easily spot issues and opportunities in your call center, with a comprehensive view of agent-specific operational metrics, call parameters, and panoramic queue statistics. You can also run customized, targeted analyses of your call center data based on custom timeframes, agents and queues. These real-time and historical reports can be shared with your team through downloadable graphs and can be scheduled to be automatically run periodically in the future.
Activation of call center features
All P-Series IP PBXs are subscription-based products, so the call center features can be enabled by simply purchasing the appropriate subscription.
Appliance-based editions all come with the Basic Plan, which is essentially free and delivers basic telephony features. The three tiers beyond the Basic Plan are the ones that include call center features: the Standard Plan, Enterprise Plan, and Ultimate Plan. The software edition and the cloud edition are only available in the Enterprise and Ultimate plans.
Pricing for each subscription varies based on the edition.
Additional key features
Some additional important features delivered include:
Advanced interactive voice response (IVR)

Self-service prompts

Music on hold

Custom announcements

Queue callback*

Wallboard*

Service level agreements (SLAs)*

Agent call summary reports*

Customer satisfaction reports*

Call monitoring

Call recording

Post-call surveys
* Features only available in the Enterprise and Ultimate subscription plans
It's important to remember that all these features are delivered to end users who are already users of a fully functional feature-rich universal communications (UC) solution, delivering telephony services to desktop VoIP phones as well as to desktops, laptops, tablets, and smartphones. These end users may be located in a single building, in multiple branch offices, at home, or on the go.
Enabling call center features on an already deployed P-Series IP PBX is a very simple endeavor. If you don't have a P-series IP PBX yet, setting that up is a breeze as well. Whether you're installing a system from scratch or simply enabling call center features on an existing installation, the result is a tightly integrated, all-in-one UC and call center solution that is highly customizable and grows organically with your business.
Conclusion
Yeastar's call center solutions are tightly integrated with their P-Series IP PBXs to deliver advanced automatic routing, effective agent tools, and up-to-the-minute analytics and reports, helping you impress customers, empower agents, and grow your business.


---
You may also like:
Optimizing your business for hybrid work? Yeastar has the solution
Videoconferencing and UC solutions for remote users
Innovative features of Yeastar Workplace office space management tool