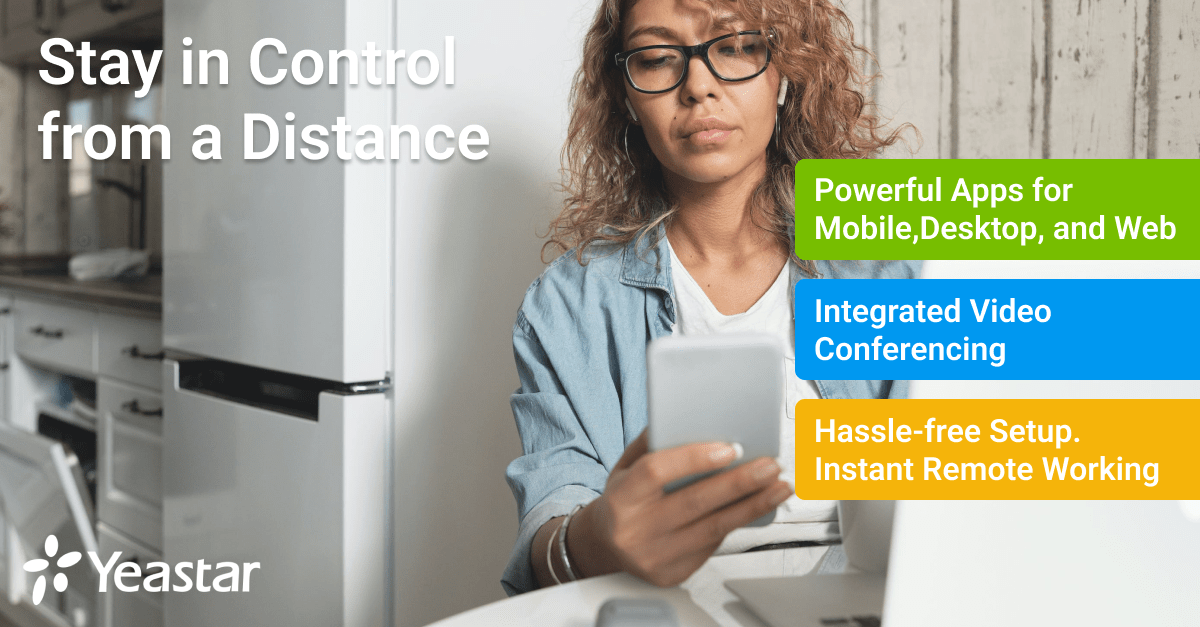 Many businesses and enterprises have found the hybrid working model to be beneficial for their employees and even good for overall business productivity. However, successful hybrid work requires the proper setup and tools.
Yeastar has invested in creating, developing, and honing unified communications (UC) products and services to address the challenges of the hybrid working model.
In this article, we discuss hybrid work and show how Yeastar UC solutions enable your business to enjoy the benefits of this model while minimizing its associated challenges.
What is hybrid work?
Hybrid work is an emerging workplace model that allows employees to work remotely or on-site. Workers are offered the flexibility of working wherever and however they feel most productive, allowing them to achieve a more harmonious work-life balance. The most prominent result of this model is a happier workforce that is also more efficient, productive, and stable.
Hybrid work can take many forms and, by its very nature, is somewhat fluid. An employee may work remotely some days of the week and come into the office on other days. Some workdays might be the typical nine-to-five, while others could involve several hours of work in the morning and several later in the evening. Employees might even work some hours on weekends to enable a lighter schedule during the week.
The form of hybrid work depends on the freedom the business offers its employees and the nature of each employee's job description. For more information on hybrid work and its benefits, see our article on the hybrid office.
Inherent challenges with the hybrid work model
There are several issues to address when implementing a hybrid work environment. The following areas of business operations are typically hindered in the hybrid model compared with more traditional working arrangements and thus need attention:
Communications and collaboration

Upholding company culture and cohesiveness

Managing performance and productivity

Ensuring equal access to opportunities and resources

Maintaining data security and privacy
The hybrid working model is not just about giving your workers the freedom of when and where to work. You must also provide them with the capabilities they need to do their work efficiently and at the level of productivity they would have achieved in a more traditional in-office working arrangement.
Employers must provide their hybrid workforce with tools that deliver seamless connectivity, access to necessary resources, multiple alternatives to more traditional interactions, and automated processes and workflows to support work. These resources and abilities enable workers to deliver a consistent experience across all on-site and off-site work modes.
All the above leads us to the cornerstone of a successful hybrid work strategy: the right technology. Yeastar delivers technology solutions that not only overcome these potential obstacles but also allow hybrid employees to thrive and deliver maximum productivity wherever they work.
Yeastar hybrid work solutions
Yeastar is tackling the needs of hybrid work through a two-pronged approach. First, Yeastar delivers a wide range of IP PBX products for UC solutions that all incorporate tools and capabilities that address the requirements of a hybrid work environment.
Second, Yeastar has developed software that supports hybrid work; this falls within its set of workplace management solutions, which are designed to help manage the hybrid workplace and its workers holistically.
UC solutions for the hybrid office
Yeastar's P-Series of IP PBX systems consist of UC solutions that conform to the needs of a hybrid workforce. The P-Series has three deployment options: an on-premises appliance, a software edition, and a cloud-based UCaaS edition.
All three can be used to interconnect on-premises users as well as remote and mobile employees. The on-premises version can be accessed from anywhere using Yeastar's Remote Access Service, ensuring secure communications.
The software edition can be deployed on any virtual environment, either on-site or in the cloud. At the same time, the UCaaS option delivers a subscription-based service to any number of remote or on-site employees.
All P-Series products provide voice, video, and collaboration capabilities, as well as seamless and simple integration with other business applications. They deliver comprehensive, all-in-one, turnkey solutions to the desktops, laptops, smartphones, and tablets of all of your hybrid workers.
Yeastar products directly address the challenges involved in maintaining communications, coherence, performance, productivity, and security, thereby unlocking all the benefits of the hybrid model.
Integrated videoconferencing
As mentioned bove, Yeastar's P-Series PBX system boasts an integrated videoconferencing solution. With it, online meetings can be hosted directly from a web browser (no downloads needed!) with HD voice and video, as well as collaboration enhancements like in-meeting screen sharing and team chat.
Workplace management software
Beyond simply delivering the appropriate tools and capabilities to the devices of each hybrid worker, Yeastar delivers sophisticated scheduling solutions for managing desks, meeting rooms, and other shared resources.
Yeastar Workplace suite includes online booking software, digital signage, smart occupancy sensors, calendar integration, and many other advanced features which work together to ensure the well-organized and effective use of these important limited resources. We will be reviewing Yeastar Workplace in detail in future articles. In the meantime, you can read more about it here.
Conclusion
Yeastar's hybrid work solutions provide an integrated and comprehensive approach to addressing the challenges of a hybrid work environment. By combining advanced UC IP PBX systems with robust office management software, Yeastar empowers organizations to streamline communications, collaboration, and overall workplace efficiency.
Adopting Yeastar's innovative solutions will enable businesses to successfully navigate the complexities of hybrid work, fostering a more connected, flexible, and productive workforce.

More information about Yeastar's hybrid work solutions can be found on their website.


---
You may also like:
Accelerate your migration from TDM to IP telephony with Yeastar
How UC and VC enable the gig economy