Product line review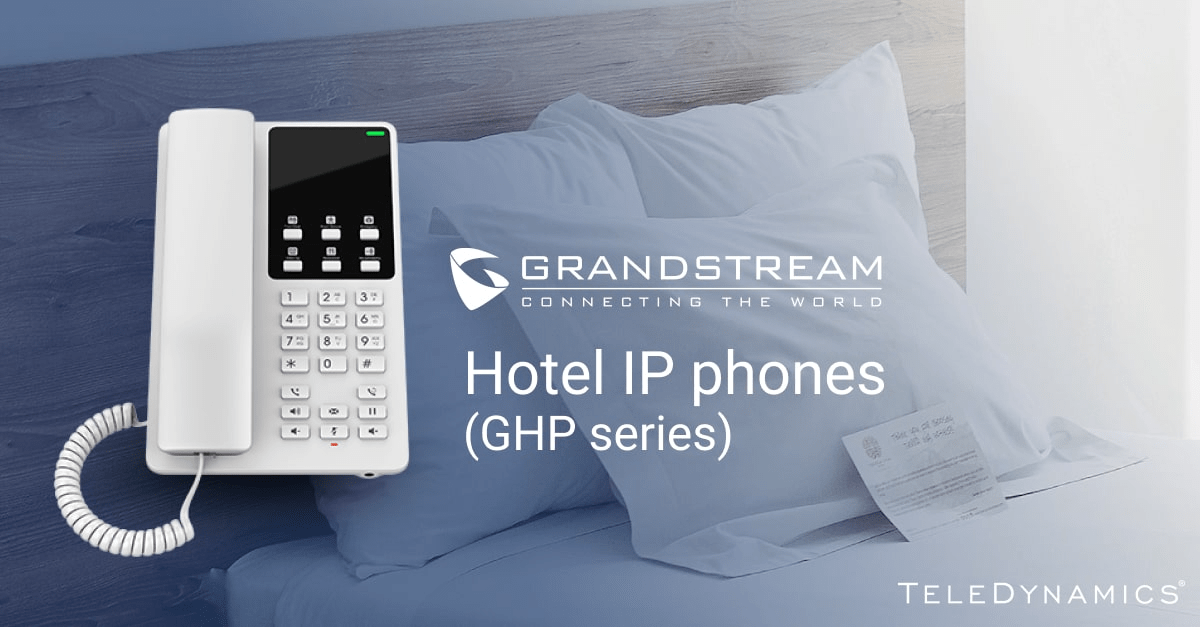 Telephones deployed within the hospitality sector must have particular characteristics. They must be easy to use and rich with features particular to hotels, motels, inns, and similar establishments. Grandstream has recently released the GHP series of IP phones that offer a range of options and features specifically suited to this sector.
In this article, we examine this series of phones and showcase their most significant features and use cases.
Introducing the GHP series IP phones
The GHP series of IP phones include eight user-friendly, compact hotel IP phone models equipped with a range of adaptable features designed to cater to the requirements of hotels and their customers.
These hotel IP phones are available in black or white in two distinct form factors and incorporate either built-in dual-band Wi-Fi or a 10/100 Mbps port for connectivity to the network. With their stylish design and flexible interface options, the GHP series phones are ideal for hotels, apartments, dormitories, hospitals, retail locations, and similar spaces.
Major benefits of the GHP series IP Phones
Not all hotels have structured cabling running to all their rooms, but the vast majority offer Wi-Fi connectivity to their clients. The Wi-Fi-enabled models of this series can use well-deployed and robust wireless networks to connect to the IP PBX, saving many smaller hospitality businesses significant amounts of money on infrastructure.
These wirelessly connected phones can be powered using a standard wall power adapter or a USB Type-C charger.
Wired models can be powered using Power over Ethernet (PoE), so you don't need external power supplies. Additionally, the phones' centralized PoE power source can be powered by an uninterruptible power supply (UPS) and/or generator combination, so your phones will remain functional even during a power outage.
All phones support two lines, two SIP accounts, 10 speed-dial keys, three-way voice conferencing, hearing aid compatibility (HAC), and three or six programmable keys, depending on the model. The phones also sport swappable faceplates that you can customize with a logo and the text of your choice.
Available models
GHP phones come in two basic form factors.
The GHP 61X models deliver a slimmer form factor for hotels that want to save space. All buttons, including speed dials and the dial pad itself, are on the handset.
The GHP 62X model is a more significant form factor with a more comfortable setup for the keypad and feature keys. In this model, all buttons are on the base of the phone, and the handset is slimmer and more ergonomic.
Both form factors come in a wireless or wired version and in white or black. The specific model names and their characteristics are as follows:
| | | | |
| --- | --- | --- | --- |
| Model | Form Factor | Color | Connectivity |
| GHP610 | Slimmer | White | Wired (PoE) |
| GHP610W | Slimmer | White | Wireless |
| GHP611 | Slimmer | Black | Wired (PoE) |
| GHP611W | Slimmer | Black | Wireless |
| GHP620 | Larger | White | Wired (PoE) |
| GHP620W | Larger | White | Wireless |
| GHP621 | Larger | Black | Wired (PoE) |
| GHP621W | Larger | Black | Wireless |
Key features
Some of the most critical features that these devices offer include:
2 SIP accounts, providing compatibility with virtually all SIP-based PBX systems

Online device management and provisioning using GDMS

HD quality sound

Three-way audio conferencing

Integrated support for dual-band Wi-Fi (2.4 GHz and 5 GHz; wireless models only)

Power over Ethernet (wired models only)

10/100 Mbps Ethernet port (wired models only)

Hearing aid compatibility

3 programmable keys (GHP61X models only)

6 programmable keys (GHP62X models only)

20 additional keys, including:

12 standard phone digit keys (0-9, *, #)

5 function keys (flash, redial, hands-free, voice mail, hold)

3 volume control keys (up/down/mute) with red LED

USB Type-C charger (GHP62X models only)

Wall-mounted or desktop installation

Telephony features:

Transfer, conference, redial, flash, hands-free, voice mail (with appropriate server), hold, mute, flexible dial plan, speed dial, server redundancy, and failover

Swappable and customizable faceplate

Support for the most popular voice codecs, including G.729A/B, G.711µ/a-law, G.726, G.722 (wide-band), G.723, iLBC, and full-band Opus
Conclusion
These devices combine innovative design with user-friendly features that meet the highest industry standards while offering an unparalleled experience for the clientele of hospitality services. The GHP series stands out for its versatility, with models that cater to various needs, including guest rooms and common areas.
The key selling points of the series—including wired or wireless connectivity, HD audio quality, device support for online management, customizable faceplates, and seamless integration with existing hotel infrastructure—make these units a sound investment for hotels looking to upgrade their communications systems.


---
You may also like:
Grandstream GWN7800 series managed network switches
Voice network security and troubleshooting
The Grandstream GXV3470 IP videophone