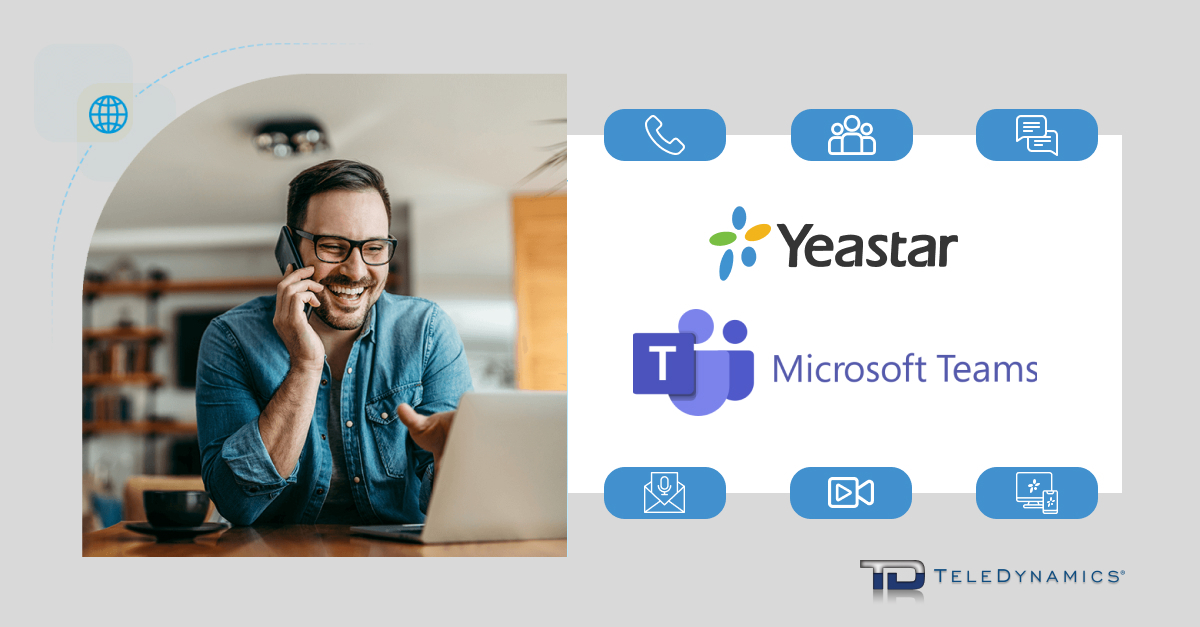 The Yeastar P-Series PBX systems are excellent communications tools. Microsoft Teams is also a great collaboration tool. Put the two together, and the result is greater than the sum of its parts. That's exactly what Yeastar has done by enabling you to integrate P-Series enterprise-grade calling capabilities with Teams for internal and external communications without the need to switch between platforms.
In this article, we more fully explore this capability, the benefits it delivers, and how to enable it.
Yeastar P-Series PBXs
Yeastar's P-Series PBX systems deliver state-of-the-art telephony services to on-site, remote, and mobile workforces. The PBX can be installed as a standalone appliance, as a software application on a physical or virtual server, or as a cloud-based option delivering a pure UCaaS service, taking full advantage of the benefits offered by the cloud-based deployment model. All options can be flexibly implemented depending on the approach that best fits your organization.
Microsoft Teams
Teams is a feature-rich and highly popular Microsoft collaboration and communications system. It provides a whole series of tools for online interaction, resource sharing, and collaboration for remote teams. It is typically a standalone platform that allows Teams users to interact, but it operates primarily as a closed system by default, essentially connecting only those users that are registered on the Teams platform itself.
P-Series-Teams integration
After a recent update of the P-series PBXs, Teams integration is now available, offering communications and collaboration in a single, seamless solution. Best of all, it's available without any additional fees and without the need to purchase a Teams phone license. That means that you can call your Teams contacts directly from your P-Series telephony service without switching between platforms. All of this is made possible through Yeastar's Linkus Web Client.
Some of the benefits you will enjoy include the ability to do the following:
View all your personal and corporate Teams contacts on the Linkus app

Click to call your contacts using the dial pad

Access voicemails, recordings, and call logs from a single app

Maintain your existing phone number and SIP-based phones

Seamlessly communicate with both Teams users and non-users

Easily activate and configure within minutes
Prerequisites for integration
To benefit from this time-saving and innovative integration, make sure that you have the following:
A Microsoft 365 Business Plan subscription at the Business Basic level or above.

A Yeastar P-Series PBX:

Appliance, Software, or Cloud edition

Enterprise or Ultimate plan subscription

FQDN option enabled to ensure connectivity via a domain name

The Linkus Web Client, from which calls can be made
Additional Microsoft integrations
Beyond the integration delivered by embedded Teams services, there are additional Microsoft 365 integrations with the P-Series PBXs that include features for Outlook and Azure active directory (AD):
Outlook:

Click to call from Outlook contact list, mailbox, or calendar.

Receive call popups and see the caller's profile.

Save call information to a related contact's record.

Automatically create new contacts for unknown calls.

Azure AD:

Sync Azure AD users and groups and Outlook contacts to the PBX.

Sync Teams contacts and user presence to the PBX.

Automatically create extensions for users synced.

Single sign-on (SSO): use Microsoft credentials to log in.
Your next steps
Whether you are contemplating migrating to one of the P-series PBX solutions or already have one, consider the benefits and implications of enabling this collaboration capability with Teams. Make sure you fulfill the above requirements, obtain the Linkus app, and follow the instructions to activate this integration for the P-Series appliance, software, or cloud-based system.
Conclusion
With the introduction of this quick and easy Teams integration, Yeastar's P-series PBXs have once again demonstrated their commitment to bridging the gap between traditional telephony and modern communications platforms. The seamless integration with Teams not only expands upon the versatility of these systems but also ensures that businesses can streamline their communication processes with a unified solution. This cooperation between Yeastar and Microsoft represents the future of integrated communications, making collaborations more efficient, inclusive, and expansive.


---
You may also like:
Unlock advanced call center features with Yeastar's flagship IP PBX
Innovative features of Yeastar Workplace office space management tool
Accelerate your migration from TDM to IP telephony with Yeastar